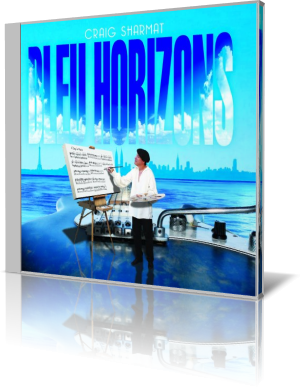 Should the guitarist Craig Sharmat be unknown to the reader, he was the composer of trailers for movies like King Kong, Ghost Rider, Eragon, Anchorman, wrote songs for the TV series like CSI Miami, Without A Trace and many more. He also arranged songs for Rick Braun, Peter White, and Mindy Abair.
He gave his debut with the album So Cal Drivin, which was released in 2009. His sophomore album Outside In followed in 2010. With his new album Bleu Horizons Craig ensures continuity. On his new project he is supported by a variety of professional musicians. I discover in the liner notes Craig Manning (keyboards), Rayford Griffin (drums), Hussain Jiffry (bass), Peter White (accordion), Rick Braun (trumpet, flugelhorn), Luis Conte (percussion) and several more.
With sound collages like First Stop NYC and Manhattan Morning Craig lures listeners into the magic of his new work. On A Day In Paris he captures with intense sounds the appeal of the French capital. The bring into play of Peter White on accordion is simply ingenious. In his guitar playing, he emphasizes the picturesque interpretation and not technical sophistication. This French life sense of savoir vivre also transmits Craig Sharmat on his next song La Seine Strut. Rick Braun on trumpet and Benedict Breyden on the violin are exponents of this way of life.