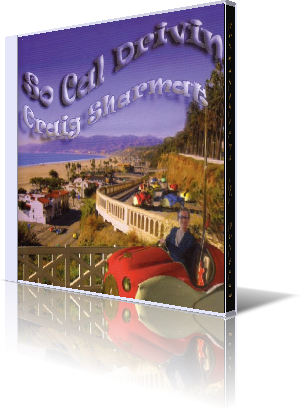 The encounter with Craig Sharmat reveals a personality of a special kind. Influenced by artists like Larry Carlton, Pat Metheny and George Benson he soon had the lucky opportunity to share the stage with platinum selling jazz saxophonist Ronnie Laws and the not little-known jazz singer Randy Crawford. Although he arranged and programmed for chart topping trumpet player Rick Braun's album Yours Truly and arranged strings on Peter White, Mindy Abair and Rick Braun's 2007 Christmas Album he wasn't caught by my smooth jazz radar screen.
The reason is simply explainable. Mainly he is fostering merits as a brilliant film composer. So he composed trailers for movies like King Kong, Ghost Rider, Eragon, Anchorman, wrote songs for the TV series like CSI Miami, Without A Trace and many more. His credits are overwhelming. Certainly enough to review his debut album So Cal Drivin, which was just released October, 2009.
The album presents his band Comfort Zone (John Balbuena, keys, Chris Mostert, sax, David Chamberlin, bass, Rich Diamond, drums) furthermore guest artists including Rick Braun, Greg Matheison, Mike White, Philippe Saisse, Dino Soldo, Billy Hulting, Steve Billman, Andy Suzuki and more. We should not forget Craig, who plays on all tracks electric guitar and in addition on some tracks keys, percussion and programming.
Blinded by such a great list of illuminates I approach Craig's album with a certain respect. So Cal Drivin, a song about Drivin' along the coast of Southern California, transmits the spirit of relaxed freedom, we all want to internalize, when we stuck in the middle lane of a So Cal freeway flailing our arms in frustration about the dense traffic. Turn your radio on and let Craig's guitar music flow.
The sensitive ballade Song For Colleen, dedicated to wife and life partner Colleen, lets Craig shine on his guitar with all nuances and finesse, an experienced guitarist can create. My favorite for a film score. On Spud Nutts Greg Matheison (piano), Andy Suzuki (sax) and Greg on guitar join forces to a heavy jam session. Brisa is a north-easterly wind which blows on the coast of South America and the title of the following song featuring humming singer Mary Durst. The intriguing Samba combines Brazilian elements with contemporary jazz to a fascinating elixir.
The Badger is an amplifier of Suhr. Tonally, the Badger imparts a distinctly British flavor with the EL-84 output section, but it doesn't quite sound like any of classic UK vintage amps. Craig Sharmat highlights a more jazzy side of this amp and contributes this song to the new generation of amps.
Walking in late night bars, drinking your favorite drink and talk to the beloved person. What do you need more? Right, good music and Midnight Jass is the stuff for that. Fish Fry is a horn driven tune with an excellent contribution of Rick Braun (trumpet) and Andy Suzuki (sax). When you can progress without difficulty, we call it Smooth Sailing. Applied to music we admire the ease of John Balbuena's piano play.
" I can say without hesitation that Toots is one of the greatest musicians of our time. On his instrument he ranks with the best that jazz has ever produced. he goes for the heart and makes you cry. We have worked together more times than I can count and he always keeps me coming back for more ...," wrote Quincy Jones in the liner notes of his album Jook Joint. Blues For Toots shows that Jean Toots Thielemans is still in the memory of many jazz aficionados. Famous saxophonist Dino Soldo performs the harmonica on that track.
Sharmat's affinity for gentle ballades finds its echo in the songs Perfect Life and Dad. Dad features Craig on acoustic guitar supported by a wonderful orchestral arrangement. With this heartfelt melody he articulates the great love to his father and closes the album with his own emotional approach.
Craig Sharmat's debut album prefers the mellow tones and opens the path to another more personal view of contemporary jazz.




Biography

Website: Craig Sharmat

Buy the album at CDBaby



Album Information

Title: So Cal Drivin
Artist: Craig Sharmat
Year: 2009
Length: 0:42:52
Genre: Smooth Jazz
Label: Scoredog Music


Tracks:

01 So Cal Drivin [3:47]
02 Song For Colleen [4:06]
03 Spud Nutts [3:34]
04 Brisa [4:49]
05 The Badger [3:44]
06 Midnight Jass [2:07]
07 Fish Fry [4:10]
08 Smooth Sailing [4:39]
09 Blues For Toots [5:11]
10 Perfect Life [4:02]
11 Dad [2:44]