| | |
| --- | --- |
| Archive | |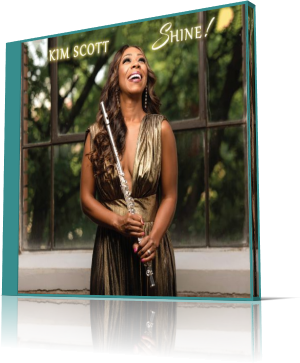 Birmingham, Alabama based flutist Kim Scott has reinvented herself again and again with the albums

Crossing Over (2011), Rite of Passage (2013), Southern Heat (2016) and Free To Be (2019).

In our dark times, she has taken on the not-so-simple task of being a guiding light and encouragement. Her album SHINE!, to be released next year, is appropriately titled and brings the music we all so need.

Unlike many other contemporary musicians who offer a one-man show as part of their recordings, Kim has taken the costly route of inviting a wide range of studio musicians.

Participating are such renowned musicians as Darrell Crooks (guitar), Greg Manning (keyboards, programming), Kelvin Wooten (keys, programming), Sean Michael Ray (bass), James "PJ" Spraggins (drums), Eric Essix (guitar), Blake Aaron (lead guitar), Eric Valentine (drums), Adam Hawley (various instruments, programming), Darrell Tibbs (percussion), Kinyon Price (various instruments, programming), West Byrd (keys), Jonathan Butler (guitar), Althea Rene and Ragan Whiteside (flutes).

The sheer joy of finally recording a record with friends again jumps out at you from every pore with the starter Back Together Again. Kim plays the flute like a jubilant field lark with a perfection that sets new standards.

If the climatic conditions allow it, one likes to spend his time at the swimming pool to simply let the soul dangle. Poolside captures the relaxed mood in a finely woven tapestry of flutes.

The title track shines with Kim's flute artistry supported by Blake Aaron's guitar picking up melody and adding further accents. When you choose a title like Off The Top, it can sometimes be misunderstood. In this case, however, no criticism is implied. Rather, Kim is merely addressing the tonality of her flute performance.

Butterfly is a track from Herbie Hancock's groundbreaking jazz fusion album Thrust (1974). There are several smooth jazz artists who have implemented their own ideas with this title like Bob Baldwin, Eric Darius, Norman Connors or Andy Cleaves. It's fair to call Kim Scott's interpretation particularly insightful. Especially impressive is Kelvin Wooten's work on the keys.

Is it possible to capture a blow of wind musically? Kim succeeds on Seabreeze with such grandeur and subtlety that one can only congratulate her. With Something Better Kim shows her side as a vocalist, which is not so pronounced in her case due to her passion as a flutist.

Laelia is a Bossa Nova rhythmized piece featuring some colorful guitar riffs by Jonathan Butler. Kim Scott not only knows flutists Althea Rene and Ragan Whiteside. No, she also likes to take the opportunity to record the soul classic I'm Every Woman together with them. You can't get more flute!

Final tune of the album is a rendition of Kirk Franklin's song Love. Artfully, Kim builds her flute harmonies like the register of an organ.

Kim Scott's album SHINE! will not change the world. But this gem will delight all those who have always considered the flute the most fascinating instrument and certainly convince those who could not imagine that the flute can be so expressive.





Buy the album in all stores

Album Information

Title: SHINE!
Artist: Kim Scott
Year: 2022
Length: 0:48:49
Genre: Smooth Jazz
Label: Innervision Records


Tracks:
1) Back Together Again (4:05)
2) Poolside (5:14)
3) SHINE! (feat. Blake Aaron) (4:21)
4) Off The Top (5:28)
5) Butterfly (5:57)
6) Seabreeze (4:53)
7) Something Better (4:40)
8) Laelia (feat. Jonathan Butler) (4:26)
9) I'm Every Woman (feat. Althea Rene & Ragan Whiteside) (3:57)
10) Love (5:43)



Further reviews:


Free To Be