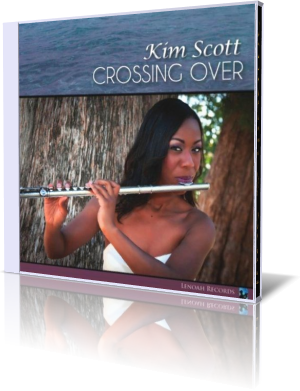 Hailing from Birmingham, Alabama Kim Scott already toured around the world with her flute and harp ensemble Kimoni Duo, with Monica Hargrave, harp, and as a soloist with professional combos and orchestras across the United States and South America.. She is teaching flute at the Alabama School of Fine Arts as Chair of the Department of Music.
Her debut album Crossing Over was produced by Keith "Cashmere" Williams, who played guitar on the lead track, Rain and Olivia. Also, Dave Crenshaw of the Lionns Den produced, co-wrote and played keys on Crossing Over. In addition, I'd like to acknowledge Kelvin Benion on keys for his work in the Bob Baldwin tune, Meu Amigo, Meu Amante. The starting track Crossing Over has the right groove to keep you captivated from first to last note. Kim's divine flute play is perfectly framed by keyboards, guitar and other instruments.
With her great intuition she gets the most out of Beyoncé Knowles' song Déjà Vu. Rain is a song by SMV from their album Release Some Tension (1997) based on Jaco Pastorius's Portrait of Tracy. Norman Brown covered the song on his album Celebration (2003). On Kim's version she interprets vocals and flute with immense intensity. On Unthinkable (Im Ready) Kim gives huge respect to Alicia Keys's original.
My Friend My Lover is a song perfectly tailored for the flute. In fact Bob Baldwin wrote this song for flutist Ragan Whiteside's album Class Axe (2007). Kim's rendition is so close to the original, I cannot hear any difference. Olivia is a song by labelmate Keith Williams from his album New Birth (2010). A wonderful melody showcasing Kim's great sense for harmonies. Ideally Keith contributes his guitar to this tune.
Sweet Thang by Chaka Khan is for all, who loves the song but prefer an "un-Ckakaed" version. The spirit of Erykah Badu's Orange Moon is marvelously captured in Kim's rendition. On the Latin-flavored Spain, originally by Chick Corea, Kim manages all difficulties of the piece with grace.
Kim Scott's album Crossing Over combines excellent performance with a collection of superb songs. A successful debut.