| | |
| --- | --- |
| Archive | |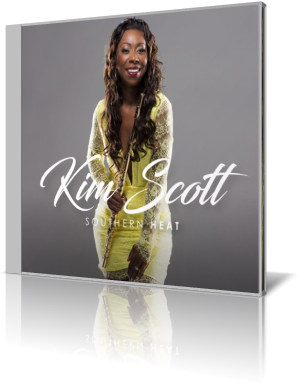 Birmingham, Alabama based flutist Kim Scott has already released the albums

Crossing Over (2011) and Rite of Passage (2013). Her third album Southern Heat (2016) does not only show the flutist but increasingly more the vocalist.

Kim performs on the new album with James "PJ" Spraggins, Ron Otis (drums), Sean Michael Ray (bass), Eric Essix, Michael "Big Mike" Hart (guitar), Kelvin Wooten (rhythm guitar, keyboards, synth bass, programming), Lin Rountree (trumpet), Jim Lowe III (programming, horn arrangement), Darryl Tibbs (percussion) and more.

The starter Billie Jean is best known as one of the musical diamonds by the late king of Pop Michael Jackson. Kim Scott serves a pristine rendition of this popular song with a tasty flute. Fantastic Voyage surprises with heavy funk, a genre already adapted to smooth jazz namely by Brian Culbertson, Candy Dulfer and Wayman Tisdale.

Sizzle is a collaboration with trumpeter Lin Rountree, who also co­wrote and produced the tune. Pure jubilating joy transformed into an addictive groove. It's Your Time doubles the synergy with Kim's powerful vocals melting into the instrumental flow and rhythm. A wonderful blow up providing the missing spark.

Forgiveness has a chamber music character bringing the flute in the center of performance. Contemplative and peaceful music with moments of reflection. Two Become One lives from the tension between the soothing long-drawn-out notes of the flute and the staccato of percussive instruments. Glorious is originally a vocal Gospel tune. This rendition expands the Latin core to a salsa grandeur in the style of Nestor Torres.

On What You Stank About This? Kim takes a different vibe. Hip hop elements ground Kim's flute performance with Urban flavor paving the way for the final Groove With Me featuring Stephen Strickland's rap and instruction on some new hip-hop dance steps created by Kim.

Originally a classic trained flutist Kim Scott transcends her artistry through smooth jazz to soul, pop, Latin jazz and Rhythm & Blues. Who knows where the journey still goes. It remains absolutely electrifying.





Buy the album in all stores

Album Information

Title: Southern Heat
Artist: Kim Scott
Year: 2016
Length: 0:45:40
Genre: General Jazz
Label: Innervision Records


Tracks:
01 Billie Jean [5:09]
02 Fantastic Voyage [5:37]
03 Sizzle [4:31]
04 It's Your Time [4:33]
05 Forgiveness [5:41]
06 Two Become One [5:59]
07 Glorious [4:38]
08 What You Stank About This? [5:51]
09 Groove With Me (Stank Remix) [3:41]