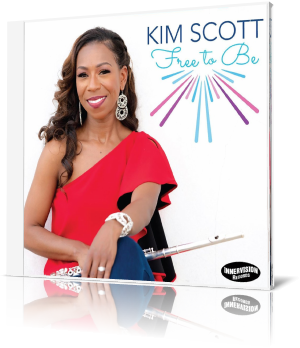 In the highly competitive music market it is not easy for a flutist to assert herself. This also applies to the field of smooth jazz, where other flutists such as Althea Rene or Ragan Whiteside are striving for points of fame alongside Kim Scott.
Alabama based flutist Kim Scott knows the music business well enough after her albums Crossing Over (2011), Rite of Passage (2013) and Southern Heat (2016) to be aware of what matters. Strengthened by the innovative record label Innervision Records and perfectly connected with an exquisite team of accompanying musicians and producers, her new album Free To Be (2019) has all ingredients to become a winner.
The credits includes familiar names and distinct stars of the smooth jazz scene. As with her previous albums, main participant is producer Kelvin "Wu10" Wooten, who is also involved on keyboards and programming. Further musicians on selected tracks are Sean Michael Ray (bass), West Byrd (keyboards), Eric Essix (guitar), Jazmin Ghent (tenor sax), Jonathan Fritzen (piano), James Lloyd (various instruments), James "PJ" Spraggins (keyboards, drums, percussion and programming), Jaden Scott (keyboards and programming), Cameron Ross (alto sax), and Dimitri Turner (instrument programming).
The album contains a well-balanced mix of originals and covers, whereby Kim attaches importance to a good cooperation with the respective musicians. The starting title song Free To Be is for example a collaboration between Kim and keyboardist West Byrd. The overall appealing song has a special hook included, a perfect synth bass line inspired by The Gap Band (Outstanding). Kim's pairing with rising sax star Jazmin Ghent is the icing on the cake.
The second tune Emerge is the first single release of the album. Accordingly, the theme is extremely tough, especially as it gains strength through the short-phase repetition. Jonathan Fritzen takes up the theme on the piano to continue it together with Kim.
Keyboardist James Lloyd, founding member of the legendary group Pieces Of A Dream, is the creator of the third composition No Worries. Kim's scatting along the main melody reminds me of Suzanne Vega's Tom's Diner. The lightness of being perfectly captured in tones.
The Look Of Love is a popular song by composer Burt Bacharach with lyrics later added by Hal David. Unforgettable is the version by Dusty Springfield, which appeared in the 1967 James Bond film Casino Royale. Kim serves a very heartfelt flute melody standing in strong contrast to the orchestral hit by Kelvin Wooten.
You And Me, a collaboration by Kim and James "PJ" Spraggins, brings the spirit of groove into the forefront of R&B. Kim showcases her qualities as vocalist. But when Kim takes the flute in a funky landscape like Take It To The Rink, she exposes her real power.
Best Part is a song by Canadian singer Daniel Caesar and American singer H.E.R. released in 2017 as a part of Caesar's album Freudian. Kim's transformation is melt-in-the-mouth soul lard in a superb arrangement. J's Groove is named after Kim's son, who is also listed as co-author and keyboardist. Kim presents a multilayered flute array in overdub procedure.
The Prayer was written by Canadian composer legend David Foster for the 1998 film Quest for Camelot. The song became quickly a showpiece for duets of famous singers like Celine Dion with Josh Groban and Andrea Bocelli or Andrea Bocelli and Katherine McPhee, who now married David Foster. Kim captures the essence of this striking song, that seems to be formally written for the flute. She is accompanied by Cameron Ross on the alto saxophone as duet partner. Extraordinary!
Kim Scott's phenomenal talent as flutist can't find a more beautiful setting than with her new album Free To Be. Whatever genre she's moving in, she's working it out.





Buy the album in all stores



Album Information



Title: Free To Be
Artist: Kim Scott
Year: 2019
Genre: Smooth Jazz
Label: Innervision Records

Tracks:

1) Free To Be (4:31)
2) Emerge (4:16)
3) No Worries (4:36)
4) The Look Of Love (4:50)
5) You And Me (3:56)
6) Take It To The Rink (4:20)
7) Best Part (4:00)
8) J's Groove (3:40)
9) The Prayer (4:28)




Further reviews: