| | |
| --- | --- |
| Archive | |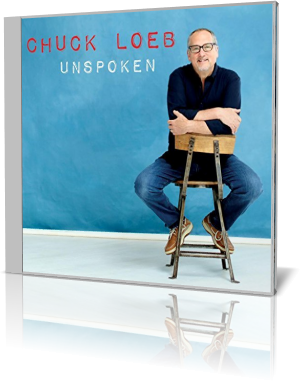 Guitarist Chuck Loeb earned merits as jazz guitarist in groups such as Metro, Steps Ahead or Stan Getz's band. Really popular however became Chuck by his solo albums as prolific smooth jazz guitarist and as member of the supergroups Fourplay and Jazz Funk Soul.

His new album Unspoken (2016) is the reflection about his recent illness and the intensified and renewed enthusiasm for his first love, music. This passion is shared by bassists Ron Jenkins, Will Lee, Nathan East and Thomas Kennedy, drummers Gary Novak, Brian Dunne, and Joel Rosenblatt, keyboardists Jeff Lorber, Brian Culbertson, Pat Bianchi, and Mitchel Forman, guitarist Michael Thompson, saxophonists Eric Marienthal, Everette Harp, Andy Snitzer, David Mann who also did most of the horn arrangements, trumpet players Till Brönner and Tony Kadleck and Mike Davis on trombone. Carmen Cuesta sings a song written by Lizzy Loeb (Lizzy Cuesta) and Christina Loeb and Chuck co-wrote a song that she plays ukulele on.

The starting tune is dedicated to Chuck's favorite jazz place to play, the Cotton Club in Tokyo. He composed the tune together with Jeff Lorber keeping it in the spirit of Weather Report's Birdland. Don't stay looking for something new, when the old is tried and tested offering a timeless radiant artistry.

Natural Light shines with fine guitar riffs featuring Andy Snitzer on soprano sax. The driving rhythm section and keyboard textures tend to modern chill out. Chuck avoids modernism and creates with Unspoken an emotional oasis with colorful layers of tones. Brian Culbertson spreads magic on piano. Together with David Mann's stunning horn arrangement and Chuck's pristine guitar performance the tune expands to musical vibrancy of the finest.

On Happy Hour Chuck meets his band mate from the fusion group Metro Mitchel Forman. However the greatest impression on this track has David Mann with his precisely timed horn contributions. It gets exciting when Chuck has to tell a musical story line. Affinity with Everette Harp on sax follows the same highly artistic concept as Fourplay.

Fusion jazz is still alive. On Treetops the grandmasters of fusion Chuck Loeb, Jeff Lorber, Eric Marienthal celebrate the excitement and edge of this genre. The Latin tinged Si Se Puede is inspired by the rapprochement between the US and Cuba and features German trumpeter Till Brönner. The title means Yes You Can and is Chuck's tribute to President Obama. Both interprets shine with a remarkable mastery on their instruments.

Way Up High is a family project. Daughter Lizzy wrote the song performed by Chuck's wife Carmen Cuesta. Chuck confesses that his family is part of his creative process helping him with outside objective perspectives. Cut And Run swings with the jazz masters Chuck, David Mann and Brian Dunne (Hall & Oates).

Loeb's wife Carmen comes from Spain and so the family lives bilingual. Loeb speaks Spanish as well, and when his schedule permits he spends summers with the family at their second home in Castellon (near Valencia). Voramar and Via Verde are results of these influences. Voramar is a sonic fury and demands with its technical finesse the skills of the involved musicians Pat Bianchi on piano and Eric Marienthal on soprano sax. Chuck composed Via Verde together with his daughter Christina. She and her mother are singing the vocal part. Emotional music like a gentle breeze.

Unspoken combines the multifold sides of this exceptionally gifted guitarist and is a mirror image of his musical personality. The album highlights the evolution and growth of this incredible talent and we are invited to be his contemporary witness.




Buy the album in all stores

Album Information

Title: Unspoken
Artist: Chuck Loeb
Year: 2016
Length: 0:59:45
Genre: General Jazz
Label: Shanachie Entertainment


Tracks:
01 Cotton Club (Featuring Jeff Lorber) [5:06]
02 Natural Light (Featuring Andy Snitzer) [6:07]
03 Unspoken (Featuring Brian Culbertson) [6:13]
04 Happy Hour (Featuring Mitchel Forman) [6:04]
05 Affinity (Featuring Everette Harp) [5:20]
06 Treetops (Featuring Jeff Lorber & Eric Marienthal) [5:09]
07 Si Se Puede (Featuring Till Brönner) [5:33]
08 Way Up High (Featuring Carmen Cuesta) [3:06]
09 Cut And Run (Featuring David Mann) [5:53]
10 Voramar (Featuring Eric Marienthal & Pat Bianchi) [7:27]
11 Via Verde (Featuring Christina Loeb) [3:47]


Further reviews:


Presence