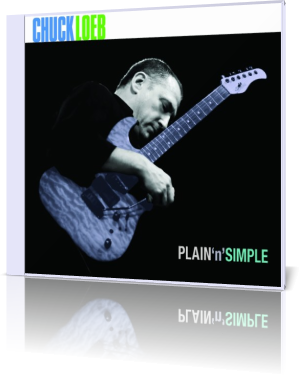 Known largely for his contributions to the format known as smooth jazz, guitarist Chuck Loeb ventures outside the norm with Plain 'n' Simple (Tweety Records, 2011), a cool set of mostly original music, performed by the trio of Loeb, drummer Harvey Mason and organist Pat Bianchi.

From the first song to the last, this 12-track set is delightful, fresh and presents a different side of Loeb than we're used to. And while the music seems it's from the 1950s or '60s, all but three songs are original – two penned by Mason, the rest by Loeb.

The trio is supplemented on selected tracks by Loeb's wife, Carmen Cuesta, daughter Lizzy Loeb, bassist Will Lee, percussionists Mauricio Zoratelli and David Charles, trumpeters Till Bronner and Nathan Eklund, and saxophonist Eric Marienthal.

Following the cool "D.I.G. (Deep Inner Groove)" and "Organeleptic," "Red Suede Shoes" may be the best of the set. Charles, Bronner, Marienthal and Eklund join the trio for this danceable groove. Eklund doubles on trombone. After the initial melody, Loeb is joined in unison by the horns, creating a nice blend. About two minutes into it, the horns step back and leave it to the trio and Charles. Loeb and Bianchi trade solos, with the organ also covering the bass lines. The two leads complement each other well. Marienthal and one of the trumpets also get their licks in.

One of the covers is the bossa nova piece, "E Com Esse Que Vou Eu," featuring Cuesta on lead vocal. Lee and Zoratelli also contribute. The other is a new take on Hoagy Carmichael's "Skylark, featuring Lizzy Loeb on lead.

"You Got It" is one of the shorter, more energetic pieces. Loeb and Bianchi capture the essence of past guitar/organ trios. Hearing it for the first time with no prior knowledge of who's playing, the listener might be convinced that it's Montgomery and Smith. Mason adds emphasis in the background.

While contemporary fans might see Plain 'n' Simple as a departure for Loeb, it's actually more of a throwback to a style the influenced, particularly the partnership between Wes Montgomery and Jimmy Smith. Commenting on the release, Loeb reaffirms what many have said over the past 15 to 20 years regarding jazz, especially in reference to shifts in how the music is produced and artists who – by choice or pressure – have broken ties with labels like GRP and Warner Bros
.
"When you record for major labels," Loeb says, "there's sometimes the idea that artists have to stick with the same horse they rode in on, but I'm excited to take fans on a different journey where I can explore different facets of jazz. Being my own producer, I felt it was time to take a leap of faith like this."

Such a leap can be risky if an artist ventures too far outside the proverbial box. However, Loeb's effort is proof that when an artist is free to play the music he wants to play, without trying to shoehorn it into a format, the results can be very positive.






www.chuckloeb.com

www.myspace.com/chuckloebofficial