| | |
| --- | --- |
| Archive | |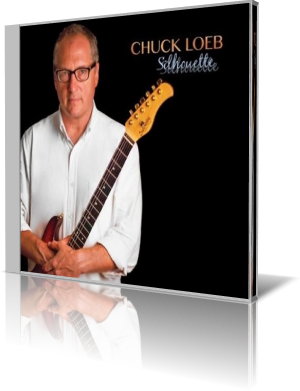 Guitarist Chuck Loeb is well known as jazz guitarist in groups such as Metro, Steps Ahead or Stan Getz's band.
But he became popular by his solo albums as smooth jazz guitarist. His participation in the group Fourplay is a fruit of this popularity.
Exploring different facets of jazz might be joyful, but to earn money with smooth jazz is the real deal. On the new album we discover Chuck's companions like David Mann, Eric Marienthal, Andy Snitzer (sax), Mitchel Foreman (keyboards), but also his family members Carmen Cuesta and Lizzy Loeb.
On Silhouette Chuck easily adapts the style of Fourplay, he has helped shape who also influenced him. Chuck follows this exciting joy ride on Silver Lining. Listen to Fourplay's Bali Run and you know what I mean. David Mann adds some Smoothness on sax.
When you love Metro's Month of Sunday's then Present Sense is the right continuation. Loeb and Mitchel Foreman showcase on this piece all their prowess again. On Appreciation Loeb drifts in the Contemporary Jazz, where Mitchel with his brilliant contributions provides the best template. JT is a tribute to James Taylor, one of Chuck's all time favorite artists. The melodious song features Eric Marienthal on sax.
The driving tune Lockdown presents the new discovery, pianist Oli Rockberger and trumpet player Giulio Carmassi. A swinging tune with some edges. Stompin' showcases Chuck's collaboration with organist Pat Bianchi in the tradition of Montgomery and Jimmy Smith.
On the final part of his album Loeb features his wife Carmen Cuesta with a rendition of Esta Tarde Vi Llover (English version "Yesterday I Heard the Rain"), a composition by Armando Manzanero, his daughter Lizzy Loeb on My One and Only Love, a jazz standard by Guy Wood and Adam Makowicz and his daughter Christina Loeb on Las Eras, inspired by their summers in Northern Spain. Christina plays the Ukulele, while Chuck is accompanying her on acoustic guitar.
Chuck Loeb's Silhouette is a colorful compendium of all that Chuck is currently epitomizes. Smooth Jazz, Jazz, Contemporary Jazz and Spanish folklore are not contradictions but different sides of his musical personality.




Buy the album in all stores

Album Information

Title: Silhouette
Artist: Chuck Loeb
Year: 2013
Length: 0:59:55
Genre: Smooth Jazz
Label: Shanachie Entertainment

Tracks:

01 Silhouette [6:36]
02 Silver Lining (feat. David Mann) [5:15]
03 Present Sense [6:03]
04 Appreciation (feat. Mitchel Forman) [7:51]
05 JT (feat. Eric Marienthal) [7:22]
06 Lockdown [5:27]
07 Stompin' (feat. Andy Snitzer) [8:14]
08 Esta Tarde Vi Llover (feat. Carmen Cuesta) [4:22]
09 My One and Only Love (feat. Lizzy Loeb) [5:25]
10 Las Eras (feat. Christina Loeb) [3:19]

Chuck Loeb - guitars
Mitchel Forman - piano, electric piano, organ, string & keyboard arrangements (track 1,2,3,4,5)
Oli Rockberger - piano, electric piano, melodica (track 6)
Pat Bianchi - Organ (track 7)
Moises P. Sanchez - piano
Nathan East - acoustic & electric basses (track 1,2,3,4,5)
Will Lee - bass (track 6)
Toño Miguel - acoustic bass
Peter Erskine - drums (track 1,2,3,4,5)
Steve Gadd - drums (track 6)
Wolfgang Haffner - drums (track 7)
José San Martín - drums
David Charles - percussion (track 1,2,3,4,5)
Yuvisney Aguilar - percussion
David Mann - horn and string arranging "Thumb Thing" (track 1,2,3,4,5)
Giulio Carmassi - trumpet (track 6)
Andy Snitzer - tenor sax (track 7)
Carmen Cuesta – vocals (track 7)
Lizzy Loeb – vocals (track 8)
Christina Loeb –vocals (track10)

Further Reviews:


Presence