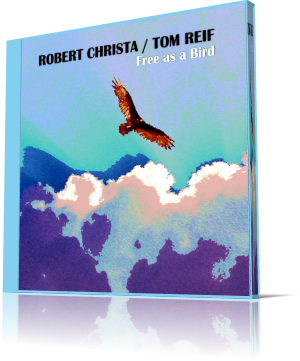 German pianist and composer Robert Christa is best known in the smooth jazz genre by his solo projects Nightflight To Rio (2015), City Lights (2017) and Smooth World (2019). His new album is a collaboration with the multi-instrumentalist Tom Reif entitled Free As A Bird (2021).
Robert Christa has written all tracks and plays Rhodes, piano and keys. Tom Reif has arranged, mixed and produced the tracks and performs guitars, guitar synth, fretless bass, keyboards, loops, percussion, programming and was co-composer on three tracks. Additional artists are Herb Berger (harp) and Tommy Eberhardt (drums).
The album opens with the sun-drenched Sunset Boulevard, from which Christa and Reif can definitely derive romantic aspects. Christa follows with the opening track to the familiar smooth jazz style of his previous album.
The tide turns with the next track, It's A Pitty. Reif's electric guitar in particular brings a rock attitude to the proceedings. Tommy Eberhardt on drums gives the whole dynamic and Christa on the synthesizer coherently joins the fusionesque character.
As If We Met Before is somewhat reminiscent of the lyrical rock known from Fleetwood Mac, although our protagonists certainly set their own accents. Secret Paradise takes us to the natural beauty with numerous bird sounds. The group then surprises us with smooth jazz at its best inspired by masters of acoustic guitar like Earl Klugh or Peter White.
An instrument can significantly determine the impression of a piece of music. On Emely it is the harmonica that gives the piece its very own timbre. The duo takes to the skies with the title track, in which the guitar recreates the vastness of the firmament with sweeping chords.
Hop on the Top is a multiple mixture of electronic set pieces, which finally emulsify into a rhythmic fusion jazz. With Starwalk, the band delves even deeper into the realms of fusion jazz, with the drummer holding the reins with a Bossa Nova rhythm to keep the high-bred musician's horses from bolting.
System Error announces the arrival of the technical age with electric motor sounds. A thoroughbred jazz rock piece, strongly influenced by Tom Reif's guitar. The album closes with Wordless, a gentle piece in itself, in which the melody on the electric guitar is in the center.
Compared to Christa's previous albums, Free As A Bird offers a picture with many facets of sound. This is mainly due to Tom Reif's musical influence. As a result, the album covers almost the entire spectrum of contemporary jazz.





Buy the album in all stores



Album Information



Title: Free As A Bird
Artist: Robert Christa / Tom Reif
Year: 2021
Genre: Smooth Jazz
Label: Independent

Tracks:

1) Sunset Boulevard (4:38)
2) It's a Pitty (5:30)
3) As If We Met Before (6:01)
4) Secret Paradise (5:50)
5) Emely (5:10)
6) Free as a Bird (5:59)
7) Hop on the Top (6:11)
8) Starwalk (5:35)
9) System Error (6:54)
10) Wordless (6:41)





Further reviews:





City Lights