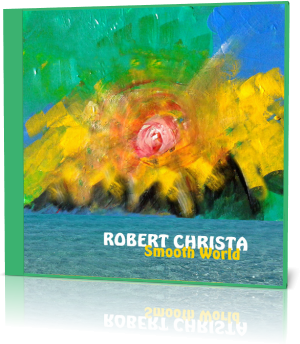 German pianist and composer Robert Christa is a musician you really should have on the radar. Since his debut Nightflight To Rio (2015) and his sophomore project City Lights in 2017 he has come out as an insider tip in the smooth jazz genre. This impression is convincingly confirmed by his third album Smooth World (2019).
Robert Christa performs on his new album keys, backing vocals and programming. He is joined on selected tracks by Robert Friedl (sax), Tom Reif (guitar), Bernd Hemminger (bass), Josiah Ruff, Stephanie Forryan, Mel Kamper (vocals), Mattias Hase (acoustic guitar), Llioba Bruns (cello), Natascha Weber, Lyn Conary, Daniana (backing vocals).
The album opens with Rise & Shine which reveals Christa's penchant for perfect construction with a great opening. Saxophonist Robert Friedl and guitarist Tom Reif get plenty of opportunity to bring their own ideas to the play.
Pure Life Begins featured the unusual voice of Jesula Thomas, which lends the piece something archaic. Casa Romantica does credit to the title with Robert's emotional soprano saxophone that opens all doors to romanticism.
Back on Our One Way Street stages singer Josiah Ruff, who is a representative of NeoGospelPop. Because a King Was Born is even more suited to his musical style.
Come On is an about-face to electronic pop, who gets a pleasing face with the singer Stephanie Forryan. Let It Go has an attractive flow that divides into several sections. On the one hand the guitar part with acoustic and electric guitar, on the other hand the keyboard part with a groovy electric piano. Brazilian Rendevouz is Christa's excursion into the world of Brazilian music. Exceptional are Tom Reif's guitar solos who reaches an own level with his virtuoso style.
Goblins World leaves the ancestral realms of smooth jazz and dives into a fantasy world of New Age. The sounds remind me of Trenkler's radio show Schwingungen. Mel Kamper closes the album with the song Mother Earth, which spreads a serious concern and serves a folkloric track.
Robert Christa had indulged the friends of smooth jazz with Nightflight To Rio and City Lights. Smooth World leaves this direction in favor of a wide range of styles.





Buy the album in all stores



Album Information



Title: Smooth World
Artist: Robert Christa
Year: 2019
Genre: Smooth Jazz
Label: Independent

Tracks:

1) Rise & Shine (6:12)
2) Pure Life Begins (4:27)
3) Casa Romantica (4:05)
4) Back on Our One Way Street (4:56)
5) Because a King Was Born (3:45)
6) Come On (5:31)
7) Let It Go (5:07)
8) Brazilian Rendevouz (6:58)
9) Goblins World (4:41)
10) Mother Earth (4:32)





Further reviews:





City Lights