| | |
| --- | --- |
| Archive | |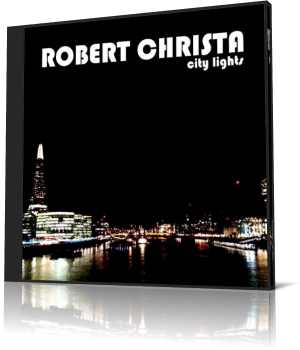 German pianist and composer Robert Christa debuted in the smooth jazz genre with his debut album Nightflight To Rio (2015). A highly recommendable masterpiece of instrumental and vocal music. Now he returns with his sophomore project City Lights in 2017.

The very positive impression of the first album is more than confirmed by the second one. Christa performs on the new album Rhodes, synth, bass, percussion, programming and drums. He is accompanied by saxophonist Robert Friedl, vocalists Racquel Roberts, Stephanie Forryan, Chris and Lyn Conary, guitarists Mathias Haase and Tom Reif, bass player Alex Malheiros, and flugelhorn player Simon Plötzeneder.

The album starts with the overwhelming sound collage Secret Places, that reminds me of George Dukes' intro Genesis from the album Illusions. Illusory Chains elegantly blends Robert Friedl's saxophone with the enchanting voice of Lyn Conary.

Brazil to Go invites the listener to Brazil with a charming melody. In a finely cut and Latin inspired arrangement, Christa introduces us to the beauty of Brazil's musical life. A sound that stands out from the everyday soundscape is Alex Malheiros' bass. Alex is member of the legendary jazz fusion band Azymuth and also famous by his own solo projects Atlantic Forest, Zenith and The Wave.

All I Do from Stevie Wonder's album Hotter Than July (1980) has inspired a legion of artists like Maysa, Kirk Whalum, Marc Dorsey or Mikael. Christa's interpretation wins its special fascination through the lovely voice of Stephanie Forryan and Robert Friedl's engaged sax performance. Christa is obviously succumbed to the magic of Brazil. With Bahia Sunset he sets a jazz fusion monument to the South American country.

On I Will Fly Away Christa presents another vocal trump, singer Racquel Roberts, who already stirred us on the album Nightflight To Rio. Ev Deito Na Sombra (I Lay In The Shadow) radiates the casual serenity of the Brazilian summer, when beach life is more important than the pursuit of material goods. Sad Song on a Happy Day features singer Chris from the service platform https://studiopros.com/. After the description of Robert an excursion in the Rock music scene.

The title song City Lines shines with a bouquet of fine classic keyboard sounds in a nice flow with Robert Friedl's sax and Stephanie Forryan's refrain. Driving Home At Sunrise is an imagination which invites the listeners in different ways to dream and discover. Mellow piano and guitar with a rarified perfection rarely heard.

Robert Christa's second project City Lights is a passionate creation with a flowing movement across a wide harmonic spectrum. Easily one of the best smooth jazz albums of this year.




Buy the album in all stores

Album Information

Title: City Lights
Artist: Robert Christa
Year: 2017
Length: 0:53:51
Genre: General Jazz
Label: New Dream Records


Tracks:
01 Secret Places [2:00]
02 Illusory Chains [4:33]
03 Brazil to Go [6:25]
04 All I Do [5:44]
05 Bahia Sunset [4:15]
06 I Will Fly Away [5:13]
07 Ev Deito Na Sombra [4:45]
08 Sad Song on a Happy Day [3:31]
09 City Lights [4:45]
10 Driving Home At Sunrise [5:21]


Further Review:

Nightflight To Rio