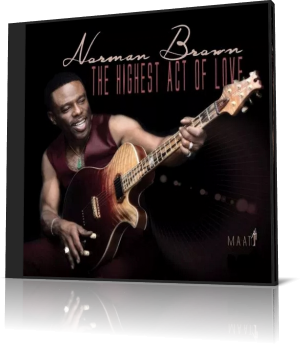 Louisiana born guitar star Norman Brown has very successfully established himself in the smooth jazz genre. His numerous albums and appearances as well as his popular collaboration in the super group BWB with Kirk Whalum and Rick Braun have contributed to this.
His new album The Highest Act Of Love (2019) was just released on Shanachie Entertainment. Beside guitarist Norman Brown the promotion mentions guitarist and producer Paul Brown and singer Deniece Williams. But this album has some more musical supporters such as Chris "Big Dog" Davis (keyboards, bass, drum programming), Roberto Vally, Emanuel Wells, Tres Gilbert (bass), Lew Laing (keyboards), Gordon Campbell, Lil John Roberts (drums), Kim Waters (various instruments), and Phil Davis (keyboards and drum programming).
Love is the focus of this album. On Inside the Garden of Peace and Love, recorded in Paul's studio The Funky Joint, the guitar sounds of Paul and Norman merge in a marvelous way to a smooth duet. The King Is Here is created by Chris "Big Dog" Davis and Norman. While Norman indulges in his well-known diversity of guitar riffs, Chris provides the remaining infrastructure with variations of luscious sounds and grooves.
Words of Wisdom features singer Baby Lee who is no stranger to Norman because she was already a background singer on his album After The Storm. Norman's crisp guitar chops also grace Spirit Power, a collaboration with Phil Davis. The title song starts with a guitar solo sequence which is narrowed down to the nucleus of the melody. Then a slow tempo waltz-like sonic flowery guitar speech follows.
Don't Make Me Wait is a good example that Norman and Chris are the perfect duo for hip contemporary jazz. Free is a 1976 song by Deniece Williams which was included on her album This Is Niecy. The song was often covered and this interpretation offers the special feature that Deniece herself has taken over the lead voice again. My Window to Heaven adds further attractive freshness to the smooth jazz genre with some groovy EWF flavored rhythm guitar support.
On Peace of Mind Norman and Kim Waters deliver a tastefully addictive and accessible palette of music. Kim Waters is not only a great saxophonist but also a multi-instrumentalist with sparkling ideas. The swinging Fountains of Spiritual Water couples Norman's affection for beautiful music with Samba rhythm and nature sounds. Born with Both Eyes Open is with Chris "Big Dog" Davis' assistance and riveting hooks and spicy urban rhythms full on course.
The Highest Act Of Love is experienced and skillfully recorded smooth jazz of top notch musicians who know their craft. Combined you will discover the essence of the guitarist Norman Brown, one of the most popular musicians in this genre.





Buy the album in all stores

Album Information

Title: The Highest Act Of Love
Artist: Norman Brown
Year: 2019
Genre: Smooth Jazz
Label: Shanachie Entertainment


Tracks:

1 Inside the Garden of Peace and Love (feat. Paul Brown) 4:24
2 The King Is Here 4:27
3 Words of Wisdom (feat. Baby Lee) 5:24
4 Spirit Power 3:51
5 The Highest Act of Love 5:19
6 Don't Make Me Wait 4:16
7 Free (feat. Deniece Williams) 4:22
8 My Window to Heaven 3:51
9 Peace of Mind 4:17
10 Fountains of Spiritual Water 3:59
11 Born with Both Eyes Open 4:30

Further Reviews:

Stay With Me

Sending My Love

24/7