Just Chillin' by Norman Brown – Reviewed by Chris Mann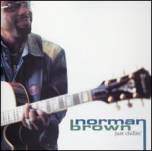 Composer, vocalist and guitar stylist Norman Brown was eight years old when he was so captivated by his brother's acoustic guitar that his brother gave it to him. Brown had grown up listening to the music of Jimi Hendrix, The Isley Brothers and Kool and the Gang.
Brown's interest in playing jazz started when he heard guitar legend Wes Montgomery for the first time and related immediately to what he heard. Motivated to learn Montgomery's songs by his father's promise of his car for the night, Norman developed his technique. Gigs with local bands followed, playing first R&B covers and later contemporary jazz.
In the mid-'80s, Brown moved to Los Angeles to study music formally at the Musician's Institute in Hollywood. After graduating, he became an instructor at the institute and began his association with the MoJazz label, recording three solo albums, before signing with Warner Bros. "Just Chillin'" is his second album for Warners.
I'm in guitar heaven as the first notes from that guitar trickle from my speakers. This groove-laden gem, The Feeling I Get, reminds me why a new Norman Brown release is an event! A lovely electric piano solo adorns an already perfect song.
It's easy to be drawn into this music. On the title track, deft cymbal and percussion work opens a song which has effortless cool, some old-school keyboard sounds and the timeless brass of three giants – Jerry hey, Larry Williams and Bill Reichenbach. If the names aren't familiar, look at your old soul and jazz-funk records and CD's again…
Norman Brown captures the urban soul mood well – ably assisted by producer Paul Brown. Chanté Moore provides the sweet vocal on Feeling the Way. So many modern R & B acts cop an attitude and miss the point. This has style and substance.
The groove is back on Night Drive. It's a finger-snappin' delight with the smooth horn sounds of man-of-the-moment Rick Braun and percussion courtesy of veteran jazzer Paulinho Da Costa.
Michael McDonald must be a busy man and his silky vocal on I Still Believe shows why. The guitar takes a back seat on this ballad until the elegant, ultra-clean solo. Ahh…
Kick your shoes off and move the chairs well back. Dancing in the House is a joyous celebration with scat vocals, the swinging bass of Pino Palladino and a crazy Brazilian rhythm powering the whole thing.
On "After the Storm", Brown covered a Janet Jackson song and this time he's back with the pretty Let's Wait Awhile. It's slow and romantic and the acoustic guitar in the background is the icing on the cake.
The mood stays romantic for the urban love song Won't you Stay. The rhythm is choppy and doesn't flow like some songs here. The vocals (both lead and background) are gorgeous and a few plays of this song will have it haunting you… You've been warned!
A "Caravan of Love"-style soft funk groove with handclaps carries the thoughtful In my Life. The background vocals are flawless.
The album ends on a sexy note with Not Like you Do, with its breathy vocal from soulstress Mikki Howard, underpinned by a slow, insistent rhythm. When she sings "I could spend forever in this room", I know just what she means.
The quality of writing, musicianship and production here is unbelievably high – the whole CD is so enjoyable that (unusually) I can't pick out a favourite song. If I'm preaching to the converted here, I'm happy – you've possibly had as much pleasure from Norman Brown's music as I have. If this is the first you've heard about him, I hope your nearest record store is not far. Go now.
Warner Bros. 47995 – Producer Paul Brown