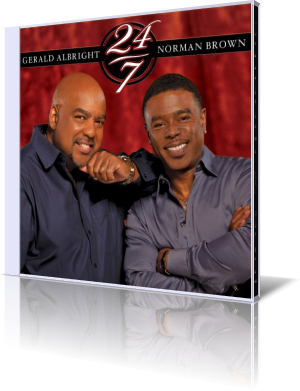 Saxophonist Gerald Albright is best known for his popular and signature sax sound. His stage presence is brilliant. He wins the audience in seconds. His newest repertoire consists of Groovology (2002) and Kickin' It Up (2004) on GRP, followed by New Beginnings (2008) and Sax for Stax (2009) on Peak Records, both GRAMMY® nominated in the category of Best Pop Instrumental Album. His latest solo album is Pushing The Envelope released in June 15, 2010 on Heads Up International.
At eye level reveals guitarist Norman Brown. One can feel his vibrant energy, when Norman Brown fiercely performs onstage. Assembling a huge fan community he is one of the shining stars of this genre. All started with his debut Just Between Us (1992), followed by the albums After The Storm (1994), Better Days Ahead (1996), Celebration (2000), Just Chillin' (2002), West Coast Coolin' (2004), Stay With Me (2007) and Sending My Love, released June 22nd, 2010. Norman Brown won a GRAMMY in the prestigious Best Pop Instrumental Category for his critically acclaimed 2002 album, Just Chillin'.
Although both artists know each other since the '80's, this project is the first one, they work together. Because of the small time window was the disk recording really short. Brown comments: "When we were recording the project, we didn't have a lot of time – so we were working on it 24/7!"
While Brown performs on lead and rhythm guitars, Albright expands on alto, tenor and baritone saxophones, flutes, bass guitar, electric wind instrument, percussion, programming and background vocals. They are joined by keyboardist Tracy Carter, rhythm guitarist Rick Watford and drummer Jay Williams; and keyboardist Herman Jackson, bassist Byron Miller, drummer Charles Streeter and percussionist Ramon Yslas.
The starting In The Moment exudes great enthusiasm. Just as spontaneous as its pure originality. Both musicians are feelin' good vibes. The upright Keep It Moving is a composition of Gerald's longtime production partner Herman Jackson. While the first part expands the melody, Brown and Albright add in the second part some splendid jazz ornaments.
Perfect Love is somehow a production of the Brown family presenting the guitarist's daughter, Rochella, and godson, DeMille Cole-Heard, on lead vocals. Gerald Albright includes some splendid flute elements, which fluidly fit into the melody. Albright's Buenos Amigos is influenced by late American jazz percussionist Willie Bobo, who taught Gerald all about Bossa Nova.
Also a cover may not be missing on the album. The duo chose The Brothers Johnson's Tomorrow, which was originally sung by Tevin Campbell for Quincy Jones' Back on the Block release in 1989. As Brown says: "Something familiar with a twist". Yes I Can is further evidence of Brown's creativity. Brown lets the guitar flow and Gerald has no problems to follow.
Selina, Albright's daughter, enchants the audience by her own loveliness on 24/7. If femininity has a voice, it's Selina's. One encore for Selina on Champagne Life, a fine rendition of Grammy award winning singer Ne-Yo's original from his album Libra Scale. This song will be definitely performed on the supporting tour.
The Best Is Yet To Come was composed by Norman Brown and Jeanette Harris, who also worked on the horn arrangement together with Albright. Gerald enjoyed the saxophone emphasized piece, which reminds him of music from good old CTI Records. Power Of Your Smile closes the album with orchestral assistance. The laidback song gives much time to dream.
Gerald Albright's and Norman Brown's collaboration 24/7 shines with high quality, pure enjoyment of music, and gorgeous ideas. Just an immaculate production.