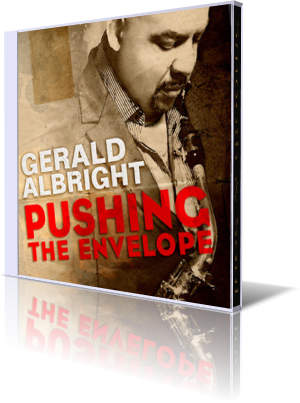 There are sax players and there is Gerald Albright. Gerald has this legendary signature sound, which contrasts him favorably from any other contemporary musician. He is Mr. Groove of R&B, contemporary and straight-ahead jazz. Since the '80s Albright is a highly requested session musician and his busy tour schedule speaks for his unbroken popularity.
His recent albums are Groovology (2002) and Kickin' It Up (2004) on GRP, followed by New Beginnings (2008) and Sax for Stax (2009) on Peak Records, both GRAMMY® nominated in the category of Best Pop Instrumental Album. His new album Pushing The Envelope is scheduled for release June 15, 2010 on Heads Up International.
Albright arranged and produced the album and performs soprano, alto, tenor and baritone saxophones, flutes, bass guitar, and keyboards, and also handles synthesizer, EWI and drum programming. But he is not a one-man-band. Albright is joined by Tracy Carter and Luther "Mano" Hanes, guitarist Ricky Watford and drummer Ricky Lawson.
Gerald starts the album with the ultra-funky What Would James Do? Albright's personal tribute to the godfather of soul James Brown features Fred Wesley, J.B.'s trombone player. This is triple A. Finest quality music.
Get On The Floor is a fantastic cover of Michael Jackson's hit (Off The Wall). Gerald arranges the song with a twinkling smile to the good, old disco time. The horns are superb.
Bobo's Groove is Albright's dedication to his former mentor. "I used to play bass and saxophone with Willie," says Albright. "He schooled me on Latin jazz and provided me with the discipline to become a solid bass player." The tune takes a formidable twist to salsa elements in the middle part.
Capetown Strut is the perfect township jive, the South African groove, which let us swing and dance. Hugh Masekela called it "an integral part of South African mainstream music. It's the core of the feeling of today's township youth". By the way the South African Jazz Festival is one of the greatest worldwide.
Burt Bacharach and Hal David wrote the song Close To You, which became popular by The Carpenters. Albright's daughter Selina shares the song with Gerald's sax in wonderful harmony.
"Earl and I have been friends for a long time," Albright comments the next song. "I've appreciated his music for a number of years, and when I wrote this tune, I heard Earl on it. He has a sound all his own." I Found The Klugh is the best fusion of acoustic guitar and sax, you can imagine.
Embrace The Spirit let the sun shine on Gerald's romantic side. He interprets the song with great sensibility. The Road To Peace (A Prayer For Haiti) keeps this atmosphere going and presents the king of keys George Duke on piano, who performs with great noblesse.
Back to the party scene with Highway 70, an uplifting song with a great horn arrangement. Get out of your seat! Gerald closes the album with the contemplative ballade From The Soul. This is the true Gerald Albright, full of love and kindness.
With his new album Pushing The Envelope Gerald Albright shows all facets of his musical character. Heartfelt romantic meets energetic funk. Pure Gerald Albright.






Buy the album in all stores



Album Information

Title: Pushing The Envelope
Artist: Gerald Albright
Year: 2010
Length: 0:52:45
Genre: General Jazz
Label: Heads Up


Tracks:

01 What Would James Do? [5:34]
02 Get On The Floor [4:56]
03 Bobo's Groove [5:03]
04 Capetown Strut [4:52]
05 Close To You [4:57]
06 I Found The Klugh [5:36]
07 Embrace The Spirit [6:02]
08 The Road To Peace (A Prayer For Haiti) [5:10]
09 Highway 70 [4:53]
10 From The Soul [5:41]

Further reviews