| | |
| --- | --- |
| Archive | |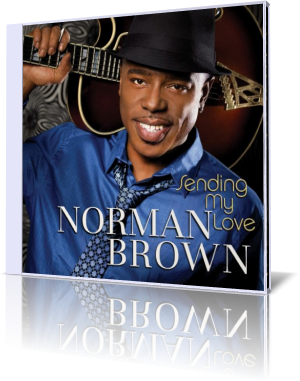 One can feel his vibrant energy, when Norman Brown fiercely performs onstage. Assembling a huge fan community he is one of the shining stars of this genre. All started with his debut Just Between Us (1992), followed by the albums After The Storm (1994), Better Days Ahead (1996), Celebration (2000), Just Chillin' (2002), West Coast Coolin' (2004), Stay With Me (2007) and Sending My Love, released June 22nd, 2010.
Many of his fans compare his music to George Benson's guitar performance. This is not pure coincidental, because both artists play Ibanez guitars. That and Norman's guitar mastery was the reason, George Benson invited Norman to join him on his album Songs and Stories (2009). George commented: "I was surprised at how well Norman handled his vocal parts in the song. His guitar playing is superb, which didnít surprise me at all, because heís a fabulous musician. But he also has good vocal range, which did surprise me."
So we discovered a little secret, Norman Brown has the same qualities as singer and guitarist George Benson. Especially the fans honored his humanity and accessibility, which might be not quite normal for a star of his caliber.
Norman explains the title of his new album "I wanted to send a message to my fans: I am with you." Norman got great support on this album by artists like Herman Jackson (keyboards), Emmery Williams (piano, programming), Alex Al (bass), Teddy Campbell (drums), Jubu (rhythm guitar) and Kevin Ricard (percussion).
Come Go With Me is Norman's invitation into his world of music. He inspires with his relaxed but still very complex guitar style perfectly surrounded by a voluminous horn section. Captivating with hooking melodies like Hereís My Number is Norman's great potential as guitarist and composer. Sending My Love links to ancient Motown music, transferring worthy notes into modern times. Norman's guitar wizardry combined with a superb keyboard sound, is the real deal.
Celebrate Me Home is dedicated to the troupes serving in Iraq. The Gospel character of this tune underlines the important of that mission and Norman's hope for a safe come back. His daughter Rochella Brown is the awesome lead singer of Kenny Loggins' classic. The Latin flavored Play Time shows the master at work, Norman Brown at its best.
Special Moments defines memorable percussion as dynamic base for Norman's melodious excursion. Versatility and musicality are the most important things percussionist Kevin Ricard brings to each recording or performance. Since West Coast Coolin' Norman Brown is fostering the Urban AC market. Iím Pouring My Heart Out tends to the R&B genre again with Norman's skillful vocals.
When you search after a little George Benson reminder, try Thinking About You. Coming Back (Return Of The Man) is another finger exercise of Brown and Jackson, the ideal twins. Soon we reach the end with the One Last Goodbye, Norman's personal farewell. See you in a little while, Norman!
With Sending My Love Norman Brown soldifies anew his mesmerizing influence on his fans and his reputation as one of the leading contemporary jazz artists.




Buy the album in all stores



Album Information



Title: Sending My Love
Artist: Norman Brown
Year: 2010
Length: 0:43:40
Genre: General Jazz
Label: Peak Records


Tracks:

01 Come Go With Me [4:06]
02 Hereís My Number [5:48]
03 Sending My Love [4:19]
04 Celebrate Me Home [4:44]
05 Play Time [4:42]
06 Special Moments [5:07]
07 Iím Pouring My Heart Out [2:28]
08 Thinking About You [4:30]
09 Coming Back (Return Of The Man) [4:11]
10 One Last Goodbye [3:46]




Further reviews: