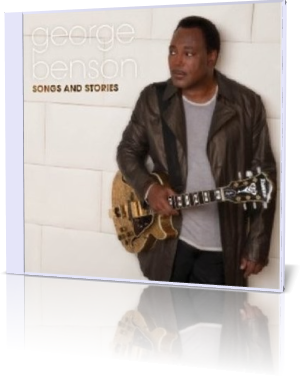 The release of a George Benson album is always a musical major event. George Benson is legend, icon and musical reference. While jazz fans prefer his sophisticated jazz releases, Benson's growing popularity is nevertheless build on albums like Give Me The Night and Irreplaceable.

The making of the album Songs And Stories is documented in the George Benson Sessions. As the title indicates is Songs And Stories a collection of popular songs of prolific musicians of the last half century. Nine of the songs are renditions, while three songs, Bill Withers' A Telephone Call Away, Rod Temperton's Family Reunion and Lamont Dozier's Living in High Definition are especially written for George's new album.
The album opens with Don't Let Me Be Lonely Tonight, a song by James Taylor, written for his album One Man Dog (1972). Benson recorded his rendition in Sao Paulo, Brazil, with the support of some Brazilian session players. "James Taylor is a great songwriter, and a great performer too," comments Benson. "Not many people are brave enough to cover his songs because he does them so well himself, and with such simplicity. It's hard to beat that combination, but I tried my hand at it while I was down there, and it came off so well that I decided to put it on the record."
Composer Rod Temperton is famous for his Michael Jackson contributions like Rock With You or Thriller. Rod is also composer of George's all-time hit Give Me The Night. He tailored Family Reunion in a perfect George Benson style. You know, it's a masterpiece when every note is just at the point.
Show Me The Love written by David Paich and Steve Lukather, co-founder of the group Toto, showcases George Benson in the typical perfect combination of vocals and guitar. Fast paced guitar licks are following the sultry melody.
Although Bill Withers has retired since a longtime, George could persuade him to write A Telephone Call Away. A wonderful duet between George Benson and Lalah Hathaway. Every song Bill Withers touches seems to appeal to a huge audience," says Benson. "He understands the inner workings of people's hearts and minds, and it comes through in his songwriting." By the way George sings the song in a style I'm not used to him. He is really ambivalent.
Someday We'll All Be Free was often understood and interpreted as anthem for black rights. Although Edward Howard never had such an intention, when he wrote the song for Donny Hathaway's Extension of a Man (1973). George Benson reveals the beauty of the melody and conjures the spirit of the past especially by using some of the instruments of the original.
Benson lets some Funk in his album with the jam Nuthin' But A Party featuring Norman Brown. The concept of the tune is a funky guitar battle between George and Norman, but it's a funny thing. Benson enthuses: I was surprised at how well Norman handled his vocal parts in the song. His guitar playing is superb, which didn't surprise me at all, because he's a fabulous musician. But he also has good vocal range, which did surprise me.
It's no wonder that Come In From The Cold by Marc Broussard found George's attention. The original has a distinctive turn to the soul music of the '60's. Based on the vintage sound of this time George Benson can unfold the attractiveness of his vocals and his guitar. Gerald Albright adds the perfect sax glamour.
Exotica was written by Marcus Miller especially for George's new album. He was surprised about the result: "George needed a nice instrumental song. I wanted to give him something that he dig it. It's a pop instrumental song not a real jazz song. George takes a song and turns it into something I never expected to be."
Rainy Night In Georgia by Tony Joe White is certainly a classic of the American songbook. George Benson elevates the song to a superior level.
One Like You was written by the legendary Smokey Robinson and David Garfield, the musical director and keyboardist of George's touring band. "I've known Smokey since we were teenagers," says Benson. Just look at his body of work. He writes nothing but magnificent songs – simple but universal ideas that everyone can relate to, colorful stuff with great harmonies. This song is consistent with that track record. Also featured on this song is another guitar legend: Lee Ritenour.
Living In High Definition is Lamont Dozier's contribution to this great album. Motown legend Lamont Dozier is today a Professor at the University of Southern California. It's the first university to offer a Bachelor's degree in Popular Music Performance. While Lamont created the melody, George is the fantastic interpreter and performer. He makes the melody to his own and to a platform of his personal improvisations. Superb his scat singing inspired by his previous collaboration with Al Jarreau and the guitar licks.
Final song on this fantastic album is Christopher Cross' Sailing, not just a rendition but the divine work of a guitar master. George keeps his promise to bring us to another place. "And for a few moments, at least, you could actually feel the atmosphere of that place and that story all around you."
Miles Davis dubbed George Benson as "The Baddest Guitar Player Alive". With Songs And Stories George Benson lives up to the best guitar player of all time. Come on Baby, he deserves it.






Album Information

Title: Songs And Stories
Artist: George Benson
Year: 2009
Length: 1:02:54
Genre: General Jazz
Label: Concord Records


Tracks:

01 Don't Let Me Be Lonely Tonight [3:51]
02 Family Reunion [4:21]
03 Show Me The Love [4:19]
04 A Telephone Call Away [5:58]
05 Someday We'll All Be Free [6:24]
06 Nuthin' But A Party [5:32]
07 Come In From The Cold [4:35]
08 Exotica [5:32]
09 Rainy Night In Georgia [4:53]
10 One Like You [4:45]
11 Living In High Definition [7:25]
12 Sailing [5:18]