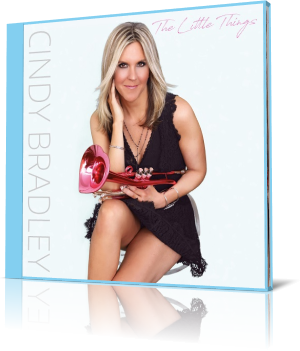 If you can increase sales with an attractive record cover, Cindy Bradley has done everything for it. The Little Things (2019) is her sixth album after Just A Little Bit (2007), Bloom (2009), Unscripted (2011), Bliss (2014), and Natural (2017). Her new pink trumpet, made especially for her, perfectly underlines her impressive appearance.
Producer and keyboard wizard Michael Broening wrote in collaboration with Cindy the tunes and also performs keyboards, piano, bass, and drum programming on all tracks. Additional musicians are among others Freddie Fox (guitar), Mel Brown (bass), Skinny Hightower (bass, vibes).
Cindy's vibrant affinity for cool jazz shines through Wind Chill Factor with her muted trumpet and the exquisite horn arrangement, which leaves nothing to be desired. The influence of Freddie Hubbard is undeniable.
The capital of Sweden is especially during the warm period the place to be. Stockholm Summer is Cindy's tribute to this modern center between culture and nature. Iím All Ears has an Urban beat perfectly underlined by Freddie's wah guitar and Cindy's trumpet with a slight reverb, comparable to Rick Braun's trumpet style. Skinny Hightower on vibes adds a memorable acid jazz flavor.
On Snack Grouch Cindy is blowing atmospherically the muted trumpet alone and with her second voice in overdub. Sonically the vibe is relaxing and positive. Surrender combines effectively muted trumpet with acoustic bass and piano to a wonderful Pat Metheny-styled groove.
Exhale offers a multilayered tune with background theme and main melody all built on Cindy's superb command of the trumpet. The Little Things starts in the style of a 90's Motown hit thanks to Freddie's guitar work, but soon the acoustic guitar involves with a romantic flair and the title tune spreads its magic.
Sonny's Home is an ideal example for Cindy's treatment of the instrument on a high level. Her main concern is the atmospheric melody, not the hasty virtuosity. In it she has brought it to absolute perfection. Reminisce stylistically follows this classification. Each of her pieces can be justifiably included in a Smooth Jazz radio program.
That said The Little Things joins the list of her excellent albums seamlessly. If you love the sound of a soulful trumpet, you will hit the jackpot with this album.





Buy the album in all stores

Album Information

Title: The Little Things
Artist: Cindy Bradley
Year: 2019
Genre: Smooth Jazz
Label: Trippin N Rhythm Records

Tracks:

1 Wind Chill Factor 4:45
2 Stockholm Summer 4:55
3 Iím All Ears 4:59
4 Snack Grouch 3:47
5 Grey Area 5:13
6 Surrender 6:15
7 Exhale 5:14
8 The Little Things 4:33
9 Sonnyís Home 5:50
10 Reminisce 5:01



Further reviews: