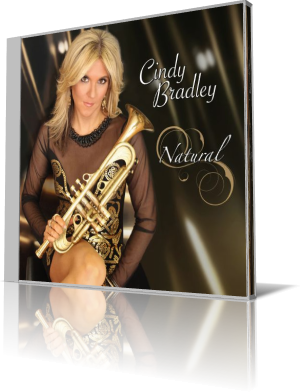 Flugelhorn and trumpet really rock her boat. Cindy Bradley left some imposing traces in the sand of the smooth jazz genre with Just A Little Bit (2007), Bloom (2009), Unscripted (2011) and Bliss (2014). Natural (2017) is her fourth album in connection with the label Trippin' n' Rhythm.
The set opens with Girl Talk, a funky exchange of blows between Cindy on trumpet and Paula Atherton on sax. Sax veteran Paula had invited Cindy on her fourth album Ear Candy (2015) and the opening track is according to the principle of mutuality a great thank-you with positive effect.
On Category A Cindy works together with outstanding guitarist Chris Standring, who has a superb knack for the perfect sonic twist. Music lovers will recognize parallels to groundbreaking pieces of pop history. Everyone But You touches a romantic chord within the listener with unadulterated sound of the flugelhorn and an acoustic guitar of classical characteristic.
The meaning of the title Vibralux will be revealed, when one mingles vibrancy, the quality of being vibrant, with lux, the derived unit of luminance or illumination. The magical formula of discovering shining music. Imagine That merges symbiotically flugelhorn with horn harmonies and out of this rises the sound of sax. The epitome of trumpet and sax in a creation of sonic balance.
Clean Break is continually evolving from a disco like stomping beat to a funky bridge. Bradley breaks out from the closed manege of rhythm and enjoys the sensation of artistic freedom. Natural is constructed with funk components, David Mann's exquisite horn arrangement, Cindy's cool muted trumpet and Chris Standring's special UK guitar flavor.
Bring It Back shows Cindy's great talent as a compositional storyteller. A muted trumpet in a sonic flow closely entwined with Nick Colionne's guitar performance. She Bop bridges the gap between Bebop jazz, swing and contemporary jazz stretching the limits of these genres with an inventive sound and a modern spin.
Crush is crisp and definitely right in the groove. This well-balanced tune with a bouncy melody creates the perfect mood for every occasion. Coco's Lullaby is flugelhorn in best hummable harmony. A quiet engaging creation hook-filled with an emotional impact.
Beauty, elegance, and a quiet grace infuses distinct artistic individuality into melodies. Natural is one of those rare works of art having body, soul, and spirit.