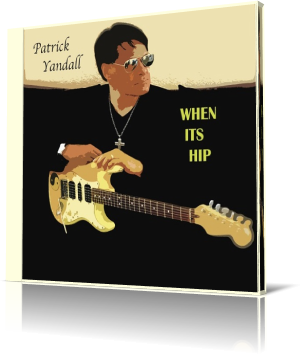 To classify Patrick Yandall as a smooth jazz guitarist would not do justice to his stylistic spectrum. Smooth jazz, contemporary jazz, blues, rock, every genre is a facet of his musical personality. Patrick's new album When Its Hip has exactly these edges that make up the whole Yandall package.
Patrick performs all instruments on the new album. With the exception of three covers he has written all songs. The album is launched with the title song. While the lead guitar is focused on chords offers the main part variations of trumpet, bass and guitar underlined by synth strings. King James is somewhat harder due to the use of distortion effects. Even a short piano solo is included.
B Boy is called a break-dancer, who follows the athletic path of street dancing. Piano and guitar alternate in the presentation of the main motif. Most friends of smooth jazz will know Who's That Lady through guitarist Peter White, who helped the 1973 Isley Bothers song to new fame. Unlike Peter White, Patrick lets the wildness of the guitar shine in its untamed form.
Soul Instincts has that special retro vibe, produced by Santana like guitar and percussion with some Hammond B3 flavor. Bass and guitar are brilliantly shaking hands. Makai means beach or ocean in Hawaiian. The guitar song is divided tempo-wise in two parts, a slow and a Latin-tinged one.
The Groovefather weighs in a James Brown like rhythm and with the well known syncopated horn section. At the Bijou has nothing in common with the famous album by late Grover Washington Jr. with the exception of the same vividness. One cannot compare Chill Factor with the album of Richard Elliot, instead Patrick opts for a well balanced selection of his guitar riffs.

Money was released by Pink Floyd on their groundbreaking album the Dark Side Of The Moon. Inspired by David Gilmour's tight guitar play Patrick delivers his blasting rendition of this renowned song. Blues for JP sounds like an annex to the previous song. By keeping the emphasis on the captivating melody Patrick lets his guitar gently weep. JP is John Patterson, the organizer for the River Raisin Festival in Michigan, who passed away last year. A great supporter of Patrick's music. He suggested Patrick to do a cover of his favorite band Pink Floyd's Money. He said Patrick could rock it.
To clarify the fact, that not everything what Patrick produces is smooth, just listen to Heartland. Staying connected with rock music is obviously his impetus. Funk is a further strong influence of Patrick's music. Bring the Funk remains no pious wish, but is energetically implemented by Patrick. However, his music grows to true strength when he concentrates on the melody and on his guitar as on Lovers Moon.
The album closes with The Star Spangled Banner, the well-known patriotic song and the official nation anthem of the United States. Patrick had produced an early version for some sporting events. His dad, a decorated Vietnam War veteran, heard that recordings and was impressed. That fact and the overall positive feedback, let Patrick select the anthem for his album.
Normally Patrick Yandall decides before recording a new album in which style the journey should go. On this album the key component is his instrument in which his personality is reflected. As a result, this album contains a colorful bouquet of different styles and forms of expression, which, however, are reunited in the guitar as a whole.




Buy the album in all stores

Album Information

Title: When Its Hip
Artist: Patrick Yandall
Year: 2019
Genre: Smooth Jazz
Label: Zingi Records

1 When It's Hip 3:55
2 King James 4:13
3 B Boy 4:15
4 Who's That Lady 4:02
5 Soul Instincts 4:22
6 Makai 4:04
7 The Groovefather 3:46
8 At the Bijou 3:46
9 Chill Factor 4:09
10 Money 4:00
11 Blues for JP 4:15
12 Heartland 4:01
13 Bring the Funk 4:12
14 Lovers Moon 2:55
15 The Star (Prelude) 1:16
16 The Star Spangled Banner 2:15






Further reviews:


Back to the Groove

From The Ashes

Just Be Thankful

Samoa Soul

Laws Of Groovity

A New Day

New York Blues