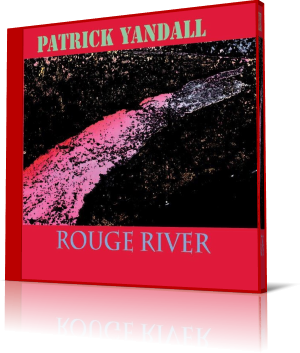 Guitarist Patrick Yandall is without a doubt one of the most productive musicians under America's sun. This year alone he has released three albums, Jazz On The Vine, Nylon Expression and now Rouge River.

As a multi-instrumentalist, Yandall now routinely records, produces and releases the entire album himself. Each album has a certain direction and purpose. Rouge River is Patrick's homage to his roots and the beautiful state of Michigan.

Also on this album Patrick lives out his artistic freedom to record what is close to his heart. And so it starts with Zug Island, a piece Patrick has created in the energetic style of the group Tower Of Powers. Hammond B3 organ and a strong horn arrangement support his guitar performance. Instead of sterile drum programming he conveys the use of an advanced live drum kit.

In a pronounced joy of experimentation he not only mixes guitar harmonies and his singing on Son Light, but also uses sprechgesang as a stylistic device. On the title song Patrick takes up a theme that he skillfully guides through the keys before changing the theme.

The title Our Man Flint hints at a character from a spy movie with Patrick introducing moments of tension here and there, especially in his lively treatment of the piano. Livonia is a historical region on the eastern shores of the Baltic Sea, but in this case Patrick refers to the city in Southeast Michigan. Live On Livonia is his tribute to his homeland.

Bless You Up offers a spiritual soulful melody that finds its own way to your heart. Bay City Rollin lets the party roll with blistering riffs. A Safe Place is a full-bodied Roy Ayers influenced piece with great guitar expression. Chippewa is a county in Michigan named for the Ojibwe (Chippewa) people. The up-tempo tune seems to be rock-inspired.

Can You Dig It combines again intense guitar playing and passionate vocal exclamations. Caliente is up-tempo fiery Latin inspired hot shot with bouncy instrumental variations. Mishigimaa Blues is a blues song as it could have originated from a rustic pub during a live performance. The final Will You Marry Me obviously serves as the musical basis for the well-known marriage vow.

Rouge River is a full-packed album of all ingredients of Patrick Yandall's musical personality. More authenticity is simply not possible.





Buy the album in all stores

Album Information

Title: Rouge River
Artist: Patrick Yandall
Year: 2020
Length: 54:38
Genre: Smooth Jazz
Label: Zangi Records


Tracks:
1) Zug Island (4:14)
2) Son Light (4:04)
3) Rouge River (5:04)
4) Our Man Flint (4:27)
5) Live On Livonia (4:21)
6) Bless You Up (4:13)
7) Bay City Rollin (4:55)
8) A Safe Place (4:40)
9) Chippewa (4:15)
10) Can You Dig It (4:33)
11) Caliente (4:01)
12) Mishigimaa Blues (3:58)
13) Will You Marry Me (1:49)