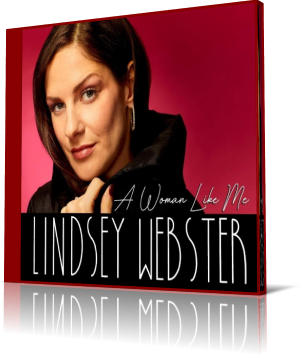 Hardly any other singer has established herself so quickly in the smooth jazz scene as the vocalist Lindsey Webster. After her self-titled debut album (2013), followed You Change (2015), Back To Your Heart (2016) and Love Inside (2018). The latest one was released on Shanachie Entertainment. Just scheduled for release on the same label is A Woman Like Me (2020).
Singer Lindsey is accompanied by her former husband Keith Slattery (keyboards), with whom she still has an intense friendship and artistic common ground. Joining the duo is drummer Vinnie Colaiuta, bassist Nathan East and percussionist Luis Conte. Further musicians are guitarists Mike Demicco, Chris Harris, Tommy DePaolo, bassist Fred Doumbe, drummer Isaac Civitello and saxophonist Ken Gioffre.
The album starts with Feels Like Forever, the first single of the album. The song focuses to a nascent love relationship in which one partner chases the dream of prolonging this moment of happiness as if it would last forever. From the timbre, Lindsey approaches Sade again, while the instrumental background is at its best. Keith on keyboards and Mike Demicco loosen up the song with concise solos.
Close to You revolves around Lindsey's constant theme that moves her most, the love affair. With a honey-sweet voice she also intones the love theme on Only You, whereby stars and firmament are not missing. With One Step Forward Lindsey gives an intense account of the daily struggle for progress and the effort to overcome daily resistance.
Ken Gioffre introduces into Perspective with soft tenor sax tones. The song is about gaining a new attitude towards life, modesty and patience. The rhythm emphasized Running Around thematises a failed love relationship in which the woman struggles to get away from the cheater.
The slow tempo A Woman Like Me makes it clear that even a strong woman can have her weaknesses. Does the partner accept this? The tune features Nathan East who crosses the bridge in the middle of the piece fusing bass and scat song. Rain washes old things away and stands for renewal.
On The Unknown Lindsey sings about change and how we respond to it. Fear is a reaction, but change also offers opportunities. A song could not be more contemporary. Always Love Me like many of the songs that Lindsey Webster and Keith Slattery wrote together, revolves around the theme of love.
Somewhere over the Rainbow is a ballad composed by Harold Arlen with lyrics by Yip Harburg, originally sung by Judy Garland in the movie The Wizard Of Oz (1939). Lindsey smashes this song with fervor.
Lindsey Webster no longer needs to be discovered. She has already taken her place among the top singers in the world for quite some time. With A Woman Like Me she underlines her exceptional position.




Biography

Website


Buy the album in all stores

Album Information

Title: A Woman Like Me
Artist: Lindsey Webster
Year: 2020
Genre: Smooth Jazz
Label: Shanachie Entertainment


Tracks:

1 Feels Like Forever 5:30
2 Close to You 5:34
3 Only You 5:37
4 One Step Forward 5:17
5 Perspective 7:07
6 Running Around 5:07
7 A Woman Like Me (feat. Nathan East) 6:40
8 Rain 5:16
9 The Unknown 5:19
10 Always Love Me 6:12
11 Somewhere over the Rainbow 6:45


Further reviews:


You Change

Back To Your Heart


Love Inside