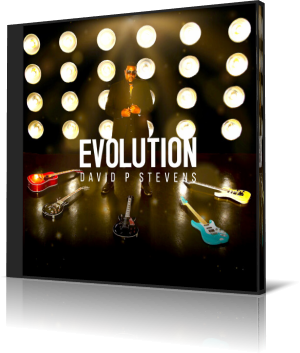 Guitarist David P Stevens has released his eigth album Evolution in 2021 on the label Sanctifly Music Group. A fitting title that clarifies the claim and performance requirement David places on himself.
For those who would like to complete their collection of his works, these are his previous albums: Timeless (2005), The Shedd (2008), Epiphany (2013), Mr. Guitar (2014), Love City (2016), Rogue (2018), and Vibrations (2020).
David also follows the commendable habit of inviting friends to his recordings. In detail they are Phil Denny (sax), Jethaniel Nixon (bass), Juan Sessoms (drums), Tony Exum Jr. (sax), Myles Collier (bass), Donnell Spencer Jr. (drums), Jackiem Joyner (sax), Elan Trotman (sax), Lin Rountree (trumpet), Ugo Mano (vocals), Will Donato (sax), Benjamin Bullock (keys, programming), Zach Sanders (sax), and Althea Rene (flute).
As you can already see from the credits, the album offers a great overview of smooth jazz and especially of its current saxophonists. The album opens with Hollywood presenting the rising sax star Phil Denny. Phil and David revolve around a common main theme, with Phil enjoying taking over individual sequences of notes that David sets for him on the guitar.
The upbeat song Brighter Days underlines David's view that things can only get better and that sunshine follows rain. Saxophonist Tony Exum Jr, who joined the smooth jazz genre with his 2011 album Finally, fits well into the modern arrangement of this song.
You in My Shirt was written by David in collaboration with Andre Holmes who is specialized in compositions. In this piece David takes on the role of vocalist, which he manages to fill exceptionally effectively. On Red Light the synth sounds of the keyboard merge with the chords of David's guitar and Jackiem Joyner's sax into a dreamlike melody.
Shake It Off is also one of those pieces with which David wants to free people from the worries of the pandemic. Together with saxophonist Elan Trotman he does a good job fulfilling this impetus. I Will Be There featuring singer Ugo Mano and trumpet player Lin Rountree is an African-flavored jewel. Mano is a Nigerian singer-songwriter, actor, dancer and instrumentalist.
With Point Of View David continues the uplifting mood featuring the jubilating sax of Will Donato. On Come Sunday David presents keyboardist Benjamin Bullock and saxophonist Zach Sanders. Both of which are too good to need to convince us. Let the music do the talking!
On Worth It David fuses elements of hip hop and smooth jazz into an amalgam of empathy into which Althea Rene's lovely flute fits seamlessly. Final tune of the album is the soulful ballad Think of Me in which David shows that he can also master the softer tones.
Evolution stands for a gradual process of development and process. David Stevens' album however marks the summary and summit of this maturation process in its best sense.




Buy the album on all digital platforms

Album Information

Title: Evolution
Artist: David P Stevens
Year: 2022
Genre: Smooth Jazz
Label: Sanctifly Music Group

1) Hollywood (4:12)
2) Brighter Days (3:52)
3) You in My Shirt (3:56)
4) Red Light (4:48)
5) Shake It Off (3:50)
6) I Will Be There (3:54)
7) Point Of View (3:27)
8) Come Sunday (4:05)
9) Worth It (3:54)
10) Think of Me (3:26)


Further Reviews:

Epiphany

Love City