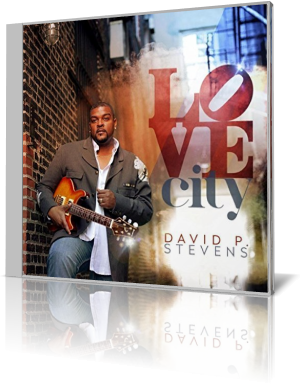 Philadelphia based guitarist, producer and songwriter David P. Stevens returns with his 5th full album Love City featuring the stellar lineup Najee, Pamela Williams, Jackiem Joyner, Frank McComb, Selina Albright, Chelsey Green, Dezzy, Isaac Byrd, Vandell Andrew, Lin Rountree and Tracey Preston.
On the starting tune Night Life David teams up with saxophonist Jackiem Joyner melting the fluidity of his electric guitar with Jackiem's unruly directness to a concentrated energy pack. Jazz Party features the young lion Vandell Andrew, who gives his sax a deep roar.
Two Occasions was released on The Deele's third studio album Eyes of a Stranger (1987). David covers the original in familiar sovereignty offering a remarkable vocal duet with Michelle Ayers. Grateful presents singer Selina Albright in a significantly R&B-influenced song.
Flying Down the 5 links to the sound of the 80's, the time of the Gap Band or the S.O.S. Band. The song features keyboardist Frank McComb stretching out on jazz. So-Cal Cruisin' is what smooth jazz listeners want to hear during their coast drive. On this exquisite tune Lin Rountree delivers a tight back up on trumpet.
On Just Because David connects violinist Chelsey Green with singer Desire 'Dezzy' Neal to a pristine sound experience. Play with You features anew the incomparable keyboardist and singer Frank McComb. Frank also composed and produced this stunning song. David adds vibrant guitar riffs gaining a supreme level of virtuosity.
The guitar is the place, where David P. Stevens can express his reflective positivity. On Forever it's certainly a romantic feeling. Towards The Sun is a bottling jar filled with awesome melodies and key wizard Herman Jackson takes a great part in realizing this musical wonder together with David.
On Sweet Nothings saxophonist Pamela Williams joins to a duet. Hitting The Mark keeps it funky with Najee on flute. Like a phoenix out of ashes he flies over the musical theme. We Need Love is the resume David draws with a rock-oriented nuance in a mix of Prince and Jimi Hendrix flavor.
Love City is brought to a point a beautiful recordings that embraces the listener with illustrious melodies. Guitarist David P. Stevens has his hand on the pulse of the time and delivers exactly what the audience wants to hear.




Biography

Website


Buy the album in all stores

Album Information

Title: Love City
Artist: David P. Stevens
Year: 2016
Length: 0:51:14
Genre: General Jazz
Label: Sanctifly Music Group

Tracks:
1 Night Life (feat. Jackiem Joyner) 3:43
2 Jazz Party (feat. Vandell Andrew) 4:03
3 Two Occasions 4:20
4 Grateful (feat. Selina Albright) 3:24
5 Flying Down the 5 (feat. Frank McComb) 3:57
6 So-Cal Cruisin' (feat. Lin Rountree) 3:20
7 Just Because (feat. Chelsey Green & Desire 'Dezzy' Neal) 4:22
8 Play with You (feat. Frank McComb) 4:59
9 Forever 4:51
10 Towards the Sun 3:44
11 Sweet Nothings (feat. Pamela Williams) 4:39
12 Hittin' the Mark (feat. Najee) 5:28
13 We Need Love 3:44

Further review: