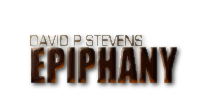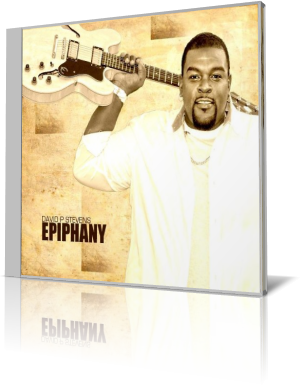 Philadelphia based guitarist, producer and songwriter David P. Stevens has definitely established himself in the smooth jazz scene. This is not difficult to prove with the cast list of his latest album Epiphany. You can read the listing of engaged artists in the additional information.
After Timeless (2005), The Shedd (2008), later repacked as Uptown (2011) his new album is the fourth smooth jazz CD in row. It is distributed by Steven's own label Sanctifly Music Group, on which David already released his first Gospel album From Thoughts to Actions.
I was formerly the optimistic view, good music sells itself without promotion. We all now know the bitter truth that only with great effort smooth jazz finds its way to the buyer. So let's talk about this album.
Singer Jamie Knight attracts with siren-like lust the Shy Guy. She captivates the listener with youthful charm. Even guitarist Stevens has a serious state to oppose his musical weight. Although Just Like That tends to be at home in the smooth jazz, the play takes a surprising turn to rock music, which is performed by Stevens even more than by Gerald Albright.
An epiphany is an experience of sudden and striking realization. The title song is David's manifest of his religious orientation. Sax player Carl Cox shares position and music with David. Most of you will know soul singer Frank McComb, but South African singer Nothende is the real discovery. Hello World is the right song and title for them.
Naturally Stevens has musical roots and influences. Stay Right Here indicates the most beautiful one. Teddy Riley and other exponents of new jack swing like Al B. Sure (Nite and Day) have impressed many musicians. Now it's time for David's answer.
On Your Embrace Stevens warmly hugs Carol Riddick's sultry voice with his sliding guitar style. Appropriately, Overbrook Drive continues that lovely sentiment. On Play It For Me Stevens presents another great vocal talent, Tesa Williams from southern New Jersey.
David loves the musical accompaniment of saxophone players. For the next song Can't Take No' More he has chosen Elan Trotman, the best possible way for his rock/jazz variations. David is not only an excellent guitarist, but is also blessed with a good voice. On The One he shows his vocal forte. The album closes with a duet of Gerald Veasley on bass and David on guitar entitled Walkin'. Both came in contact on a jazz festival and cultivate this relationship.
Free from conditions of a record label David can develop on Epiphany his musical ideas. This makes the music interesting and alive.



Biography

Website


Buy the album in all stores

Album Information

Title: Epiphany
Artist: David P. Stevens
Year: 2013
Length: 0:51:14
Genre: General Jazz
Label: Sanctifly Music Group

Tracks:

01 Shy Guy (Featuring Jamie Knight) [4:28]
02 Just Like That (Featuring Gerald Albright) [4:00]
03 Epiphany (Featuring Carl Cox) [4:46]
04 Hello World (Featuring Frank McComb & Nothende) [4:00]
05 Stay Right Here [3:53]
06 Your Embrace (Featuring Carol Riddick) [5:12]
07 Overbrook Drive [3:37]
08 Play It For Me (Featuring Tesa Williams) [4:13]
09 Can't Take No' More (Featuring Elan Trotman) [4:43]
10 The One [5:56]
11 Walkin' (Featuring Gerald Veasley) [6:27]