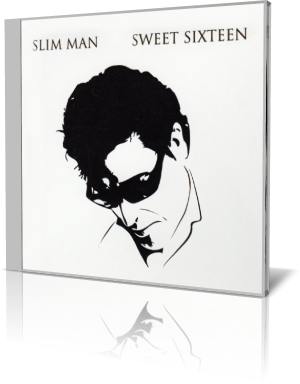 Musician and bon vivant Slim Man has just released his new project Bona Fide (2014). Together with his new album he sent me the compilation Sweet Sixteen, which isn't listed on his website and isn't available in online stores.
Last year he sent out an email to his fan community Slim People. He asked them to name their favorite Slim Man songs. Slim put as many as he could fit on Sweet Sixteen. There are actually 17 songs on Sweet Sixteen.
The CD is only available for purchase at Slim Man shows. But anyone who orders the new Bona Fide CD gets a free Sweet Sixteen CD as a gift. All songs are the original recordings from the original masters, except for Now And Forever, which is from the Slim Man Live album and Secret Rendezvous, which is from Bella Mia.

From the rich overwhelming offer of this hand-picked best-of album, I can not introduce all these songs. Instead, here the review of a small selection. Faith In Us from his first album (1995) was a great Top-Ten-hit. It includes everything that the magic of the singer Slim Man makes. A melt-in voice embedded in a perfect instrumental arrangement.
Also noteworthy is the piece Overdose Of You from his album Bella Mia (2005), that presents a memorable muted trumpet solo. For Now And Forever is an appetizer for Slim Man's live album. The song was recorded during a concert, Slim gave in California in 2009. The song is a little different to the title Slim recorded for his album in a studio, which is available at his website. I especially love the wonderful piano part.
Don't Say Goodbye from Bella Mia has the smooth ripeness of a noble Frank Sinatra song. Bonus track is Sunny Day from his album Thousand Miles Away. Slim Man allures with great charming potential his beloved woman. A wonderful ballade for the best occasions of your life. Guitar, keyboards and vocals in a perfect flow.
Anyone who becomes friends with Slim Man's voice, experiences with Sweet Sixteen moments of happiness. Friends of smooth jazz will appreciate the richness of successful instrumentation. Overall a worthy reason to visit his concerts or to obtain the new Bona Fide album from his website.




Biography

Website


Album Information

Title: Sweet Sixteen
Artist: Slim Man
Year: 2014
Length: 1:19:40
Genre: Smooth Jazz
Label: Independent


Tracks:

01 Beginning [4:59]
02 Night Like This [5:44]
03 Faith In Us [5:02]
04 Secret Rendezvous [5:59]
05 End Of The Rainbow [4:31]
06 Overdose Of You [3:44]
07 Sweet Serenade [5:28]
08 For Now And Forever [5:14]
09 Secrets Of Your Heart [4:19]
10 Weeping Willow [4:23]
11 There For You [4:29]
12 Angela [4:12]
13 Every Beat Of My Heart [4:04]
14 If You Only Knew [3:10]
15 Bella Mia [5:31]
16 Don't Say Goodbye [4:49]
17 Sunny Day (Bonus Track) [4:02]



Further reviews꞉

Slim Man ­ Thousand Miles Away


Bona Fide ­ Bona Fide