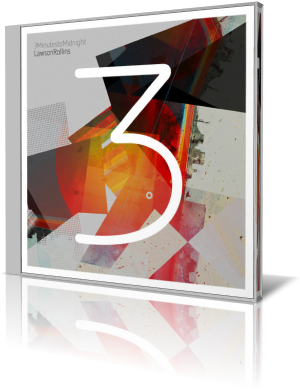 Lawson Rollins is one of the most prominent protagonists of Latin jazz. He gives a new meaning to acoustic guitar music. His solo albums Infinita (2008), Espirito (2010), Elevation (2011), Full Circle (2013) and Traveler (2015) are contemporary witnesses of a stunning career.
3 Minutes to Midnight is a new stellar release in the music history of this genre. Valuable companions on this recording are Dominic Camardella (piano, Rhodes and Hammond organ), Dave Bryant (drums, percussion), Randy Tico (bass), Charlie Bisharat (violin, viola), Stephen Duros (drum programming) and Forrest Marquisee (pedal steel).
The set opens with the title song, on which Lawson sounds similar to an evolution of Django Reinhardt. The uplifting Light the Way rises the mood with hand clapping, melodic drums and Lawson's acoustic guitar elating in its transgression like a lark in springtime.
On Island Time Lawson is strutting the scale like a Gaucho. Sway hits a contemporary spot as attractive hybrid of modern rhythm and classic Spanish guitar with Lawson's tonal flight of fancy. On the percussion driven Driving Force Lawson lets the tones swirl like a tornado.
Southbound brings some country flavor into the game. Forrest Marquisee on pedal steel is the answer to Lawson's gliding guitar technic. Stringdance follows a sonic melody path in a steady flow keeping the tradition of guitar music of the previous century. Time Shift moves to the Oriental realms changing from time to time like a melodic chameleon key and character.
Reveal begins like a score of a film noir, then picks up speed, mixed in some Japanese tones to fall back into the balladic melancholy. Speed is no witchcraft, especially for Lawson on Split Second. I must admit, Lawson is no representative of soft tones. He is the master of staccato, fires his acoustic guitar like a Gatling gun. Eternal is no difference.
But there comes revelation with the modest Mary's Rock. A slow melody where Lawson can just concentrate on the beautiful melody and the strength of his guitar strings. Thanks for that!
Take everything you love about Lawson's previous albums and you get exactly the vibrant, contemporary sound this guitarist is famous for. 3 Minutes to Midnight is acoustic guitar music right to the point.



Biography
Buy the album in all stores
Album Information
Title: 3 Minutes to Midnight
Artist: Lawson Rollins
Year: 2017
Length: 1:01:20
Genre: General World
Label: Infinita Records


Tracks:
01 3 Minutes to Midnight 3.29
02 Light the Way 3.16
03 Island Time 3.28
04 Sway 3:10
05 Driving Force 3.46
06 Southbound 3.01
07 Stringdance 3.48
08 Time Shift 3.10
09 Reveal 3.18
10 Split Second 3.50
11 Eternal 3.38
12 Mary's Rock 3.22

Further reviews:



Espirito