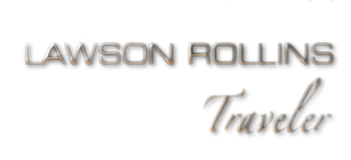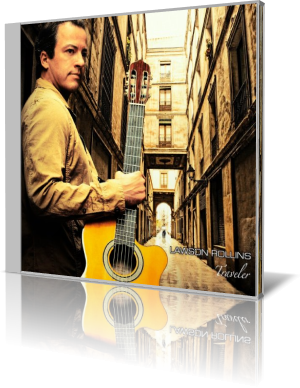 Acoustic guitar and Latin jazz, that embodies Lawson Rollins. His solo albums Infinita (2008), Espirito (2010), Elevation (2011) and Full Circle (2013) are all about this instrument. His new album Traveler (2015) makes no difference.
Grammy-winning violinists Mads Tolling and Charlie Bisharat, Randy Tico (bass), Dave Bryant (drums & percussion) and Cameron Stone (cello) form the core of the creative team. Big Bad Voodoo Daddy members Scotty Morris, Joshua Levy and Karl Hunter drop into the recording as brass addition.
Rollins radiates with the first song Traveler so much happiness, that one is immediately infected by this joy of life. Traveling is fun, while making music the greatest. In the full Rollins spills over on Barcelona Express. A virtuoso of the Spanish guitar, he thrilled with his fire. The French Savoir Vivre is reflected at Cafe Paris.
On Berlin Bossa he cites a classic guitar piece and interweaves it with his own melody idea. Next capital city is Madrid, where he allures with Meeting in Madrid. From Flamenco to a burlesque dance tune in the world music area. Marching West comes in heavy steps with an own rhythmical expression.
Balance and peace within, these are the characteristics of the tune Journey Home. Beyond the Bayou brings the the typical Louisiana. Stylistically it's accentuated by the glissando effect. Across the Moors spreads that Odem of misty darkness.
The last three songs are constructed as a trilogy: Metropolis, Ancient City and City Electric. This Urban Trilogy is a reflection about his spent in New York, London, Tokyo and San Francisco. Of all three City Electric is located the most in smooth jazz.
Lawson Rollins' Traveler is despite its variations of style consistent in Latin flair. Played steady at a high level Lawson's music is just irresistible



Biography

Album Information

Title: Traveler
Artist: Lawson Rollins
Year: 2015
Length: 1:01:20
Genre: General World
Label: Infinita Records


Tracks:
01 Traveler [3:58]
02 Barcelona Express [5:29]
03 Cafe Paris [3:42]
04 Berlin Bossa [4:18]
05 Meeting in Madrid [4:01]
06 Marching West [4:51]
07 Journey Home [5:19]
08 Beyond the Bayou [6:32]
09 Across the Moors [4:49]
10 Metropolis [8:18]
11 Ancient City [4:57]
12 City Electric [5:06]






Further reviews:



Espirito