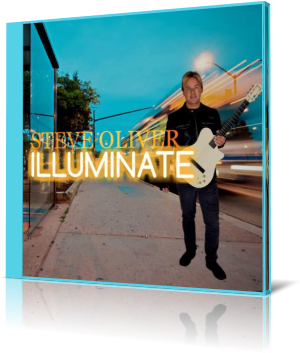 Multi-instrumentalist, songwriter and producer Steve Oliver is known for his distinctive style, which results from three components. Foremost a jazz guitarist, he follows his guitar performance with his voice. This jazz singing wherein words are sung note for note to melodies is called vocalese. Steve Oliver's trademark is the wordless vocalese. The third component is the Roland (Boss) GR-33 guitar synthesizer which bases on the Roland JV-1080 sounds and is triggered by his guitars.
His album Illuminate is now available, his 11th career album. Steve has written and produced all songs. He plays all guitars, guitar synth, vocal sounds, bass, keyboards, drums, sound design. On selected tracks he is joined by Joel Taylor (drums), Cory de Brake, Jimmy Haslip, KT Tylor (bass), Walle Larsson, Chase Huna, Nelson Rangell, BillyRay Sheppard (saxophone), Tateng Katindig (piano), and Craig Chessnut (percussion).
The best way to get started on a new project is to get going at full steam. The aptly titled Full Tilt features Steve Oliver as master at work in the style he is known for and loved by his audience. The Game Is On serves syncopated thrill with exciting freshness.
Illuminate is navigating to the Pat Metheny realm with full harmonic color palette that identifies Steve as a worthy successor or, more than that, a welcome innovation. Visions of Light underlines that a catchy melody is more important than simple virtuosity. Steve lets his guitar speak and the result is stunningly beautiful.
Vámonos is the Spanish call for departure. Steve likes to weave Spanish flavored music in his albums, which excellently fits to his nylon guitar style. The character of a piece of music can often be derived from the names of the musicians involved. On Circles Steve has invited Nelson Rangell, Jimmy Haslip and Tateng Katintig, all players with strong roots to contemporary jazz. The result is evident.
On Raise Up the rhythm is the determining element that strongly influences Steven's guitar interpretation. Hidden Sun intertwines guitar virtuosity with emotional melodic moments. With Soul Deep Steve opens a new chapter exploring the lyrical road of Blues.
On City of Lightning Steve seeks the consonance with saxophonist BillyRay Sheppard. The mastery of both musicians takes the composition from nice to exquisite. The album concludes with a jewel of guitar art. Illuminate in a romantic approach on solo guitar.
Steve Oliver makes with Illuminate the world of smooth jazz brighter. Steve has taken the torch and is now evolving his very own style of Oliverism.




Buy the album in all stores

Album Information

Title: Illuminate
Artist: Steve Oliver
Year: 2018
Genre: Smooth Jazz
Label: SOM Entertainment

1 Full Tilt 4:00
2 The Game Is On 3:52
3 Illuminate 6:01
4 Visions of Light 5:40
5 Vámonos 4:23
6 Circles 5:12
7 Raise Up 4:54
8 Hidden Sun 5:43
9 Soul Deep 5:17
10 City of Lightning 4:03
11 Illuminate (Reprise) [Solo Guitar] 1:40



Further reviews:

One Night Love

Positive Energy

Global Kiss