Steve Oliver - One Night Live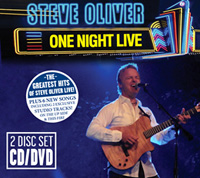 Guitarist Steve Oliver earned his first merits performing with some of the industry's finest talents, including Rick Braun, Peter White, Marc Antoine, Everette Harp, Larry Carlton, Gato Barbieri, and the Neville Brothers. In 1996 he joined Steve Reid's Bamboo Forest with a high exposure to the audience on hundreds gigs. That way he build the fundament for his solo career. His first album First View was released on Native Language Music in 1999, soon followed by Positive Energy (2002). On KOCH Records Steve released 3D (2004), Radiant (2006) and the Christmas album Snowfall (2006).
On the summit of his growing popularity Steve is performing an incredible 200 dates a year. "I really canít relate to musicians who only do a couple of live shows a month," Oliver comments. "The live shows are such a huge part of my life that Iíd go insane if I wasnít out there playing as often as I am. Music is a living, breathing thing, and I honestly feel that being up onstage is the safest place in the world. I feel like Iím transported to a whole new and cool place where I lose track of time." The idea to record a live album seemed to suggest itself. NuGroove Records topped this idea by releasing a 2 Disc Set (CD/DVD) of Steve's concert at the State Theater, Modesto, CA for a really inexpensive price tag.
The album starts with Magic World, a song Steve originally recorded for his album 3D. Steve performs the melody on his electric guitar humming along. Supported by percussionist Humberto Vela, Steve creates some special percussion elements by mouth (beatboxing) and adds piano chords by triggering sounds about sounds.
First View was the title Steve began his career with. Steve comments: "First View was a glimpse into who I was as a writer and artist." The song is a culmination of Steve experiences during his tours with artists like Peter White, Steve Reid and Rick Brown and his own development as professional guitarist.
On Guitar Demonstration Steve explains his equipment. He especially uses synth guitars he designed with Carvin called NS1 (Nylon Synth) and the electric guitar SH575. These guitars are connected via midi with the Roland (Boss) GR-33 guitar synthesizer which bases on the Roland JV-1080 sounds.

I Know is Steve's ballade and invitation for a new love. "Please come talk to me. I want to know everything about you, what's inside your heart." The text is significant for Steve's open minded position.
Chips And Salsa is Steve's Latin explosion. Dos mexicanos tortilla-chips con la CosteŮa salsa taquera, that's hot and spicy. On this high energy song Steve demonstrates his mastership in fingerstyled Latin guitar music.

Sojourn and Fearless segue together. Sojourn is the introduction to Fearless. Steve Oliver performs guitar while triggering the bass and sing the melody. A multi-talent and multi-instrumentalist thanks to modern technology.
Show You Love showcases Steve on the path of Al Jarreau and Bobby McFerrin. His own unique scat-style of singing combines perfectly with the instrumental wonderland. The goosepimply Wings of Spring spreads Brazilian magic in a fluent way.
Bend or Break is in the style and tradition of Crosby, Stills, Nash and Young. The song was taken from Radiant (2006), one which one can also find Stills' For What It's Worth.
High Noon was Canada's Nr.1 Smooth Jazz song of the year 2003, taken from the album Positive Energy and indeed after the first tones the audience was yelling. Feeling Good is exactly the right title to pull the audience to further emphatic hand-clapping heights.
Radiant Dreams from Steve's album Radiant was originally recorded with Tom Schuman on keyboards. It's impressing that Steve is able to perform the complete song alone with all that keyboard gimmicks.
As encore the album contains the studio recordings This Fire and On The Upside. While This Fire is a pure Pop song, On The Upside turns the wheel back to smooth jazz. Nevertheless both songs are uplifting an captivating. The last one is featuring the brilliant Warren Hill on sax.
One Night Live is for all friends of Steve Oliver's music the best what you can get. The CD/DVD set exactly captured the atmosphere at the State Theater in Modesto. A wonderful venue perfectly set in scene.




Title: One Night Live
Artist: Steve Oliver
Year: 2008
Length: 1:12:46
Genre: General Jazz
Label: Nu Groove Records

Tracks:

01 Magic World [6:14]
02 First View [5:08]
03 Guitar Demonstration [2:16]
04 I Know [6:37]
05 Chips and Salsa [4:17]
06 Sojourn [4:54]
07 Fearless [5:25]
08 Show You Love [3:43]
09 Wings of Spring [4:28]
10 Bend or Break [4:40]
11 High Noon [5:23]
12 Feeling Good [5:35]
13 Radiant Dreams [6:10]

Bonus tracks:

14 This Fire [4:16]
15 On The Upside [3:39]