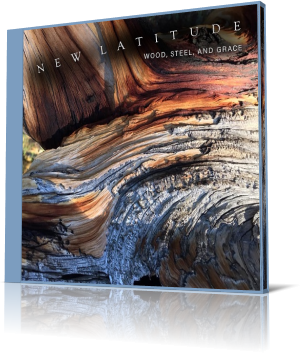 The group New Latitude consists of guitarists and composers Dave Erickson and Jim Carr. Their collective debut album is entitled Convergence (2014). Their sophomore project Vantage Point (2017) is now followed by their third album Wood, Steel, And Grace (2020).
Both guitarists are joined on the new album by Deon Kuhl (drums & percussion) and Robert Strickland (upright bass). New Latitude is comparing themselves with the music of Acoustic Alchemy, California Guitar Trio and Dominic Miller.
The guitar duo has a certain affinity for the European alps because two of their songs are named by the Central European mountain range. The beginner is Alpine Bliss, a song with the appeal of an awe inspiring sunrise. The well-rehearsed team manages to achieve an incredible harmony. The high recording quality is also remarkable, with many nuances being audibly displayed.
In summer, when you're cruising through the Alpine serpentines in a convertible, and the wind ruffles your hair, Cruising Altitude is the ideal accompaniment. Dias Calientes changes the panorama to the Spanish landscape of Andalusia. The Flamenco style shows its formative influence.
The journey is the reward. Open Road is dedicated to this motto. As varied as the route. Alpenglow is more reminiscent of a Scottish song like Mull of Kintyre. A Serious Man shines with a creative flow that brings out the maximum potential of two acoustic guitars.
Windmills play a not insignificant role in both literature and music. The partial dynamics of the piece rather speak for the onomatopoeia of a train. Old Friends is certainly the best name for the duo that plays guitar against guitar, face to face in complete harmony. The last piece Prismatic Sky reveals an excellent melody in which the duo introduce the use of violins.
As on previous albums, Dave Erickson and Jim Carr rely on the magic of their acoustic guitars. There is an emotional warmth to this project which is spellbinding all lovers of this instrument, but the duo should be open to other instruments and musicians in the future.




Buy the album in all stores

Album Information

Title: Wood, Steel, And Grace
Artist: New Latitude
Year: 2020
Genre: Smooth Jazz

1 Alpine Bliss 3:09
2 Cruising Altitude 3:41
3 Días Calientes 4:31
4 Open Road 3:39
5 Alpenglow 3:37
6 A Serious Man 3:57
7 Windmills 3:19
8 Old Friends 3:12
9 Prismatic Sky 3:03


Further reviews:


Convergence

Vantage Point