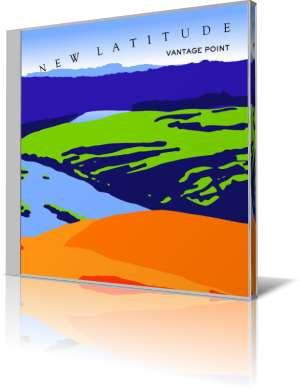 Founder of the formation New Latitude are guitarists and composers Dave Erickson and Jim Carr. Their collective debut album is entitled Convergence (2014). Their sophomore project Vantage Point (2017) is now released.
The guitar duo is joined on the new album by Deon Kuhl (drums & percussion) and Robert Strickland (bass). New Latitude is comparing themselves with the music of Acoustic Alchemy, California Guitar Trio and Dominic Miller.
The opener Springtime offers an undercurrent of joy in abundance. Two guitars in perfect pitch and harmony allow to fly your dream. The Journey shows more of the acoustic consonance of both instruments finding ways into the sonic unison with wonderfully gentle phrases.
Swaying in a Bossa Nova rhythm Just Ride brings rays of sunshine conjuring up the transcendental power of these acoustic guitar strings. Five Mountain Dance reflects on different styles and paces with a slightly Spanish heritage.
The term Halcyon Days is used to denote a ​past period that is being remembered for being happy and ​successful. This song encompasses all about willingness to endure the good times. Birds of Prey are those majestic birds which are hovering in the heights to engage immediately in a nosedive prey. New Latitude capture these movements in cinematic chords.
Gone Before plays with different paces and styles between forth going and reluctantly relaxed. Victorious is the adjective for evincing moral harmony or a sense of fulfillment. An upright rectilinear attitude that radiates onto the music of the duo. Incantare is the Italian word for enchant. A well-structured song, with a medieval appeal.
Bend the Curve accelerates the pace to shortly fall back into a lower range. The final Gratitude continues the self reflecting style of the previous pieces.
New Latitude present with Vantage Point pure acoustic guitar music in an unique self-contemplation on acoustic harmonies. Far from fashionable trends, from conventional genres or master techniques, they seek the pure peaceful synchronicity in unison.




Buy the album in all stores

Album Information

Title: Vantage Point
Artist: New Latitude
Year: 2017
Genre: Smooth Jazz


1. Springtime (4:10)
2. The Journey (3:29)
3. Just Ride (3:22)
4. Five Mountain Dance (4:15)
5. Halcyon Days (3:47)
6. Birds of Prey (4:37)
7. Gone Before (4:56)
8. Victorious (4:01)
9. Incantare (3:53)
10. Bend the Curve (3:38)
11. Gratitude (2:17)


Further review:


Convergence