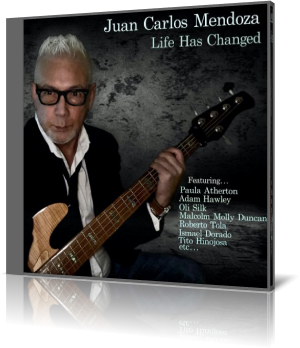 Spanish guitarist Juan Carlos Mendoza has already released the albums Mediterranova (2005) and Thanks To Life (2014). Now he returns with his third album Life Has Changed (2021). The title of the album refers to the isolation during the pandemic that Juan Carlos had to endure for three months, the new beginning with the production of his album and the energetic support of musician friends who helped him finish it.
His music has taken him out of the valley and to new heights. Always in the certainty that the preservation of health is more important than income or a good place in the charts. During the record production he has experienced true friendship among musicians and enthusiasm for his project. An album dedicated to smooth jazz.
The musicians involved are partly from America and partly from Spain as can be seen from the credits. The album opens with the title song, a concentrated accumulation of harmony brought to the listener by different instruments in melodious packaging. Above all acoustically perceptible are Juan Carlos' sonorous bass and Adam Hawley's excellent guitar.
The sparkling All Days In A Week sounds like an outspring of Michael Jackson's early works. Ismael Dorado leaves a lasting impression on the sax. Finally Over features British keyboardist Oli Silk in best performance only surpassed by Juan Carlos on lead bass.
New Life gives a master class in Latin flavor and sonic splendor featuring divine Paula Atherton on flute and Robert Tola on guitar. From a solid Bossa Nova to a modern hip hop rhythmized Dance If You Can. Tito Hinojosa is a real treat on sax. His newest album is Walking In The Big City (2019).
Renãca Beach is situated in the Valparaíso Region of Chile. Chile is the former homeland of Juan Carlos and with this piece he picks up the native flair, which comes across very authentically. Luna Laughs is obviously dedicated to Juan Carlos daughter Luna, who has her funny say here and there.
Old Pals And A Good Wine are two things we learn to appreciate in the course of our lives. Let's consider this piece as a thick exclamation mark. Sex With Masks presents us the lovely voice of Yoli Benito and the tantalizing whisper of Ivana Manzotti.
A Peaceful Place featuring Nando Gonzalez on guitar is a golden melody which is coherent in itself and of exquisite beauty. Gangman Mendo Style stands in sharp contrast to the previous piece and is rooted in pop music as we know it from South Korea.
Juan Carlos Mendoza's album Life Has Changed is stylistically very differently structured, but in sum leaves a positive overall impression. Its strong moments pleasantly elevate the album from the average of many other artists.



Buy the album in all stores

Album Information

Title: Life Has Changed
Artist: Juan Carlos Mendoza
Year: 2021
Length: 1:17:04
Genre: Smooth Jazz
Label: DK Records


Tracks:
1) Life Has Changed (5:19)
2) All Days In A Week (3:45)
3) Finally Over (4:41)
4) New Life (6:12)
5) Dance If You Can (4:15)
6) Renãca Beach (4:38)
7) Luna Loughs (3:55)
8) Old Pals And A Good Wine (5:14)
9) Sex With Masks (6:02)
10) A Peaceful Place (4:21)
11) Gangman Mendo Style (2:26)



Credits:

1-Life Has Changed (Feat. Adam Hawley Guitar, Toni Mateos Drums, Gherardo Catanzaro Keyboards, Jota Bejarano Voices)

2-All Days In A Week (Feat. Ismael Dorado Sax and Brass, Gherardo Catanzaro, Keyboards Pablo Santiz Drums, David Pedragosa Guitar)

3-Finally Over (Feat. Oli Silk Piano, Patti Ballinas Drums)

4-New Life (Anna Dances In a New Normality), (Feat. Paula Atherton Flute, Roberto Tola Guitar, Tito Hinojosa Sax & Trumpet, Gherardo Catanzaro Keyboards, Luis Dulzaides Percussion, Lautaro Rosas Guitar)

5-Dance If You Can (Feat. Tito Hinojosa Sax)

6-Reñaca Beach (Feat. Luis Dulzaides Percussion, Javier Anguera Flutes, Pau Alvarez Piano, Cristian Costantini Drums)

7-Luna Laughs

8-Old Pals And A Good Wine (For Molly) (feat. Malcolm Molly Duncan Sax, Gherardo Catanzaro Keyboards)

9-Sex With Masks (Feat. Ismael Dorado Sax, Yoli Benito Voice, Ivana Manzotti Whisper Voices)

10-A Peaceful Place (Feat. Nando Gonzalez Guitar, Alexis Fernandez Piano, Cristian Costantini Drums)

11-Gangman Mendo Style

Juan Carlos Mendoza; Basses, Keyboards, Piano, Arrangements, Production.

Juan Carlos Mendoza; uses Sire Basses on all the songs, V5, V7, V10.


Further reviews:


Thanks To Life

Mediterranova