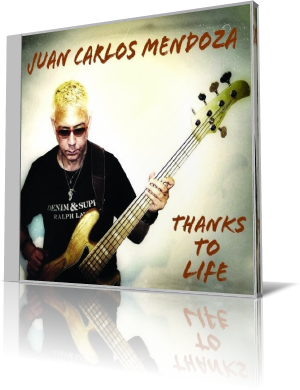 What could be more exciting than to discover a previous unknown musician and his music? In the case of Spanish guitarist Juan Carlos Mendoza and his album Thanks To Life the whole is an adventure.
Unbound by genre thinking Juan puts on his album the music that is close to his heart. Some of the best musicians of Spain are joining this project such as Norbert Fimpel and Inaki Arakistain (sax), Cristina del Valle and Ivana Manzotti (vocals), Gherardo Catanzaro, Javier Mora (keyboards), Javier Barral (guitars), and a lot more.
Limoncello Break is launching a massive deluge of Funk. Inspired by an Italian liqueur the musicians let it hang out with a zesty groove. On top the outstanding Norbert Fimpel on sax, who defines Funk in a new way.
On Thanks To Life are melting bass and vocals into a substantial connection. Singer Cristina del Valle and bass player Juan meet for a South American siesta. Earth Level is a tribute to of Juan's idols, Level 42 and EWF. The styles of both groups in a mix is something special.
Lenceria Fina means fine underwear. A title that do not necessarily opens up to the outsiders. In any case, a piece for guitar enthusiasts featuring Javier Barral on guitars. Helping Hands is dedicated to those people who need support in emergencies. Javier Mora on keys and Inaki Arakistain on sax give this tune an elegant note. Above all Juan is enthroned like a god father on his penetrating bass.
Smoke On The Water by Deep Purple is generally interpreted as a piece of rock history. With singer Manu Garzón and Antonella Mazza on contrabass takes the piece a completely different turn. Juan offers two versions, one chill and one smooth jazz, the second with a piano solo by Ivan Vazquez.
Benidorm Glamour featuring singer Ivana Manzotti brings the heyday of large grand hotels and their fantastic cabarets in memory. With Back Home Again follows an ear candy for smooth jazz fans. Nando González' harmonic guitar chords flow together interfered by Juan's bass and Peter Bulla's violin. The intermezzo Keep Moving is contrasting to the previous tune.
The Boogie is a wild dream come true of Funk, R&B, sax and everything you know from Studio54. Ruben Alba's bagpipe meets Javier Barral's rock guitar on Celtic Roads, a borderline experience between rock and world music. But Juan Carlos Mendoza travels further. Brasilera features his bass in conjunction with Brazilian percussion in the style of Santiago de Bahia.
Paco is a tribute to the late Paco de Lucia presenting some Arabian elements. Guerreros features singers Xerónimo and Ivana Manzotti. The song is dedicated to the warriors fighting with words instead of weapons. The album ends with a snippet recorded on the Uruguay Van Halen Show Concert 83'.
Juan Carlos Mendoza's Thanks to Life is an album with many musical surprises. Stylistically as diverse as life itself.




Album Information

Title: Thanks to Life
Artist: Juan Carlos Mendoza
Year: 2014
Length: 1:17:04
Genre: Smooth Jazz
Label: Pak


Tracks:
01 Limoncello Break Featuring Norbert Fimpel [3:47]
02 Thanks to Life Featuring Cristina del Valle [5:19]
03 Earth Level Featuring Gherardo Catanzaro, Ivana Manzotti [5:44]
04 Lencería Fina Featuring Javier Barral [6:12]
05 Helping Hands Featuring Javier Mora, Iñaki Arakistain, Pino Roveretto [7:04]
06 Smoke on the Water Featuring Manu Garzón, Antonella Mazza [5:19]
07 Benidorm Glamour Featuring Ivana Manzotti [4:41]
08 Back Home Again Featuring Peter Bulla, Nando González [6:54]
09 Keep Moving Featuring Barry I. White, Molly Duncan, Dru Chapman [1:31]
10 The Boogie Mix Featuring Deborah Carter, Joan Bibiloni, Norbert Fimpel [4:54]
11 Celtic Roads Featuring Rubén Alba, Javier Barral [4:42]
12 Brasilera Featuring Ivana Manzotti [4:37]
13 Paco Featuring Toni Jimeno, Sebastián Heredia [4:35]
14 Guerreros Featuring Xerónimo, Ivana Manzotti [4:12]
15 Smoke on the Water Featuring Manu Garzón, Iván Vázquez, Javier Barral, Antonella Mazza [Smooth Version] [5:38]
16 Uruguay Van Halen Show Concert 83' Featuring Stephen Franckevich, Armando Tirelli, Ricardo Bozas [1:55]