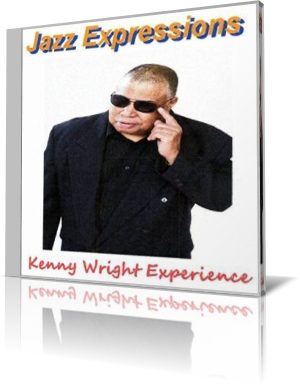 Bass player Kenny Wright is one of the underestimated icons of the contemporary jazz genre. Performing with legends such as Stevie Wonder, The Whispers, Michael White, The Temptation's Review, The Supremes, Bobbi Humphrey and others should be award enough.

He also excelled with his solo albums Fresh Focus (1993), Comin' at Ya (1995), Bottle of Wine (1998), Herbie, Miles and Me (2006) and My Roots (2010).

After a long hiatus he returns with his new album Jazz Expressions (2016). He performs on this album with proven players like Charles Etzel, Camarra Kambron (piano), Wendall Shepherd (trumpet), Eric Kennedy, Bobby Ward, Larry Bright, Steve Onheiser (drums), Jacob Yoffee, David Smith, Kelly Shepherd, Steve Carrington (sax), Seitu (piano and keyboards), Kevin Porter, Carl Filipiak, David Cosby (guitar) and George Spika (celeste). Kenny plays on this album six string bass, guitar, and drum programming.

The album opens with the moody tune Through The Mist. The song was earlier recorded for his album Comin' at Ya. After a short passage of contemplative play the tune speeds up with intoxicating freshness to fall back soon into the mystery of bass. All the Things You Are is a song composed by Jerome Kern, with lyrics written by Oscar Hammerstein for the musical Very Warm for May (1939). Jacob Yoffee on sax and Kenny on bass transfer this jazz standard to improvisational magic.

The swinging Five Or Six meanders into stunning spheres with pianist Elliot Levine more on the melodious side and saxophonist Jacob Yoffee improvising in wildest bebop realms. Satisfy My Love tends to a soulful and heartfelt direction with a virtuoso performance by Charles Etzel on piano.

On Motion Is The Only Constant Kenny shares his philosophical and musical impressions in a free form tune. The Line Up expands to a classic jazz jam with the interaction and contribution of all band members. Hassan Sabree's soprano saxophone is the dominating factor of the interlude Angela.

Dolphin Dance was recorded by Herbie Hancock for his album Maiden Voyage (1965). Kenny and his group exercise this jazz standard in all harmonic movements embracing the original. Lula is a ballade, Kenny Wright already recorded on his album My Roots. The tune serves that certain mood in the style of My Funny Valentine.

Krystal, originally from Kenny's album Herbie, Miles and Me, has the introspective sound on the borderline of melody and improvisation. Blue Tuesday is from the same album featuring Jacob Yoffee on tenor sax and Kevin Porter on guitar as main matadors.

Oakk Studio Jam features a stellar performance by Paul Onheiser on piano with dynamic phrasings of Kenny on bass. The Waterbearer Revisited is the collective finish of this album presenting the skills of all players in full extension. Count this tune to progressive jazz rock.

Jazz Expressions is the culmination of what the Kenny Wright Experience represents today's. Pure passion melted into notes.




Buy the album in all stores

Album Information



Title: Jazz Expressions
Artist: Kenny Wright Experience
Year: 2016
Length: 1:10:45
Genre: General Jazz
Label: Focus Fresh Music


Tracks:
01 Through The Mist [7:34]
02 All The Things You Are [5:35]
03 Five Or Six [5:09]
04 Satisfy My Love [4:13]
05 Motion Is The Only Constant [4:08]
06 The Line Up [8:22]
07 Angela [2:45]
08 Dolphin Dance [7:38]
09 Lula [3:32]
10 Krystal [5:12]
11 Blue Tuesday [5:37]
12 Oakk Studio Jam [5:07]
13 The Waterbearer Revisited [5:53]

Further reviews: