The Kenny Wright Experience
Comin' At Ya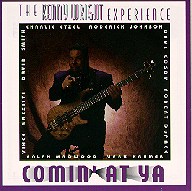 Often people complain in forums and mailing-lists the decline of Smooth Jazz comparing the format-changings of several Smooth Jazz radiostations. I lead it back to the limited horizon of users that only hold the charts with known artists in the view. The good lies so near. Just take the informations of experienced connaisseurs of the genre.
Kenny Wright is on of these rather unknown but high professional artists, who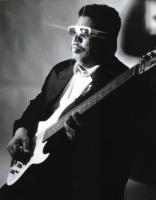 deserves undoubtly your unrestricted attention. Kenny is a perfect bassist. He and his backup band, Fresh Groove, have been busy opening for such acts as Gladys Knight, Kim Waters, Walter Beasley, and others. Kenny and the band have also been featured on the Bet on Jazz Network where they have been recognized as cutting edge musicians.
On his album Comin' At Ya are playing the following musicians:
Bass Kenny Wright

Keyboards Charlie Etzel

Guitar Vince Mazzitti; Dave Crosby (3,7)

Drums Roderick Johnson; Bobby Ward

Horns David Smith (alto soprano and tenor); Mark Kramer (alto -4 and wind controller -5)

Vocal Ralph Magwood

Rappers Gary Ellerbie, Kenny, Vince, Ralph, Wendell and David Smith

Brass Wendell Shepard (4)

Percussion Robert DuPree, Kenny, Vince and Ralph (3,4).
The long list reveals that this album is not an one man stand, but a prolific cooperation. Kenny has written and composed all tunes. There is no cover song, only originals. Kenny comments his album:
"Sometimes i hear criticism that i don't lead all the songs from my instrument , the bass guitar. But i'm a song writer that happens to be a pretty good bass player. My goal when writing is 'great melody'.
And i think this is what sets me apart. I think that when you hear a great melody, you tend to remember it. I don't hear a lot of that on mp3."

The album starts with 1964, a slow tune showcasing David's alto sax as lead instrument in professional surroundings of the band. Leaving enough area for an extensive solo the tune is although really melodious.
More bass is to hear at You Can Fly. Kenny plays a quick slap bass accompanied by David's sax.
Stay in my heart is a George Benson-like excursion into the Smooth Jazz. Ralph Magwood's voice has an amazing similiarity to Benson's vocal. A wonderful ballade for dreaming love-mates with an impressing guitar solo.
Bootsy The Cat is a more funky piece with heavy horns and some nice rapping parts. Wendell Shepard's brass is unmistakable. Very uptempo bass and keyboard line added by a distortion guitar solo.
Revelation brings the ship into quieter fairway again. A very long midtempo tune with Kenny's extensive bass and Charlie's keyboard solo.
For Side The Moon is a tribute to Fusion Jazz with much solos, especially Vince Mazzitti on solo guitar.
Through The Mist is a slow contemplative tune with a sensitive melody.
Outer Limits is not the title tune of the famous television serial but another jazz-fusionesque tune with David's long sax solo and Dave Crosby 's guitar solo and last not least a solo from Kenny. Yes, the drummer makes also a solo. Many jazzy improvisations in uptempo mood are showcasing the professionality of the artists.
A Bass Thing Tapped + Percussion, the final tune is a bass solo on a Latin percussion background. The ultimative blending of bass and percussion to a rhythmical soundscape.
This album is on grounds of its versatility not only for bass-fans a valuable addition to everyone's collection.
© HBH
Soundsamples of this album are to find at
http://artists.mp3s.com/artists/132/kenny_wright.html
More information about Kenny Wright.