Kenny Wright Experience My Roots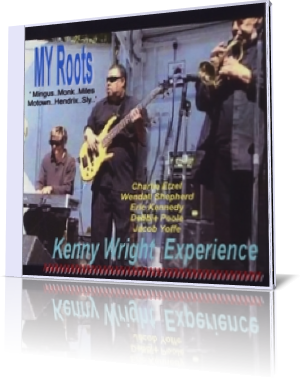 Bass player Kenny Wright has been for a long time, an in-demand musician in the music business. His solo albums are Fresh Focus (1993), Comin' at Ya (1995), Bottle of Wine (1998), Herbie, Miles and me (2006) and My Roots (2010).
He has performed with such legends as Stevie Wonder, The Whispers, Michael White, The Temptation's Review, Supremes, Bobbi Humphrey and others. Kenny and his backup band 'Experience have been busy opening for such acts as Gladys Knight, Kim Waters, Walter Beasley, and others.
He recently explained in an interview his motifs, his biography and influences quite openly. Characteristic for this independent artist are these sentences: "If You have money, you can buy a producer, hire excellent sidemen and pay for promotion. I have never had any of those luxuries. But I am confident that I have created some things musically that will outlive me, and for me that's what I set out to do."
Here you have the rare opportunity to meet a truthful musician, who stands by his restricted opportunities and still releases his music against all odds. Kenny recorded his new album with fellow musicians like Charlie Etzel (keyboards), Wendall Shepherd (trumpet), Maynard Parker (guitar), Eric Kennedy (drums), Debbie Poole (vocals), Robert Rucks (strings), Jacob Yoffe (sax), and Kevin Porter (guitar).. Kenny plays on this album six string bass, does most of the guitar work, percussion and drum programming.
Spirit Never Dies just jumps right to the end of the line that Kenny Wright's idols, (Mingus, Monk, Miles, Motown, Hendrix and Sly) left behind. Welcome back to the funk. Herbie Hancock's Dolphin Dance is a jazz classic, standing for quick modal changes. This version features Kenny Wright and Jacob Yoffe walking on the path of the great master.
D Poo features Wendall Shepherd on trumpet. The best notes come on last. The mellow and moderate attitude continues on 'Lula,. melodious but with a jazzy twist. You will certainly remember Just My Imagination of the Temptations (1971). Kenny Wright says Hello to this song.
On Satisfy My Love Kenny shares the lead with the lovely singer Debbie Poole. The horn section on Hand Dance performs a nice medley of evergreens like Hugh Masekela's Grazin' In The Gras, Michael Jackson's Billy Jean, Eric Burdon and the War's Low Rider, and more..There's also a superb Charlie Etzel's interpretation on keyboards.
Tisdale is Kenny Wright's tribute to the late Wayman Tisdale. Kenny comments: "I called it Tisdale because Waymon Tisdale was doing a promotional tour I believe for a new CD that he had out at the time. A student and I were going to the event to check him out, but somehow I got to recording the song and the groove of it would not let me go anywhere until it was done. That took many hours and I did not get to see Wayman ,so I named the song after him. It's sad that he's passed on."
Summer Song is the final song of Kenny's new endeavor. Now you know, why Kenny calls his band Kenny Wright Experience. This album arouses your curiosity to attend Kenny's live performance.




Album Information

Title: My Roots
Artist: Kenny Wright Experience
Year: 2010
Length: 0:42:45
Genre: Funk


Tracks:

01 Spirit Never Dies [4:59]
02 Dolphin Dance [7:36]
03 D Poo [5:32]
04 Lula [3:30]
05 Just My Imagination [4:19]
06 Satisfy My Love [4:15]
07 Hand Dance [5:08]
08 Tisdale [3:51]
09 Summer Song [3:38]

Further reviews: