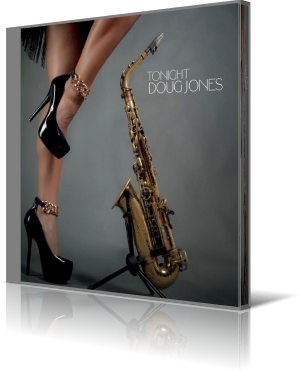 Hailing from Connecticut saxophonist Doug Jones is as leader of the Doug Jones Group frequently performing in selected American jazz clubs, when the Corona virus allows it. His solo projects encompasses the albums Heart and Soul (1994), Shades Of Gray (2002), Top Down (2013), Secrets (2016) and Crossing Lines (2018). In 2019 he recorded the Christmas album Home For Christmas. This year Doug presents the EP Tonight.

Doug wrote, arranged, produced and recorded all of the songs except New Situation. This song was created by producer/keyboardist Chris "Big Dog" Davis where Doug came up with the melody for the song.

Doug introduces into his new project with the title song featuring himself in all his facets as multi-instrumentalist. His real strength is undoubtedly the saxophone, on which he is at his peak form.

The collaboration with Chris "Big Dog" Davis is Doug's best decision. New Situation is a high-class track, which is taken over unseen but often heard by every radio DJ.

Is It Any Wonder highlights string supported sax with a warm and delicate melody. The bridge is finely chiseled by soprano sax and piano. Cold Snap features Doug on flute kicking the emotions to a full throttle.

Searching is a mid-tempo gliding flow of narrative sax and piano. Sway approaches childlike song material in the melody structure and then glide into the realm of cool charades.

In the overall view of this project, New Situation stands out pleasantly, so one wishes that Doug Jones would deepen his group effort with Chris "Big Dog" Davis.





Buy the album in all stores

Album Information

Title: Tonight
Artist: Doug Jones
Year: 2020
Length: 24:18
Genre: Smooth Jazz
Label: Independent

Tracks:

1) Tonight (3:51)
2) New Situation (4:05)
3) Is It Any Wonder (4:10)
4) Cold Snap (3:56)
5) Searching (4:06)
6) Sway (4:08)