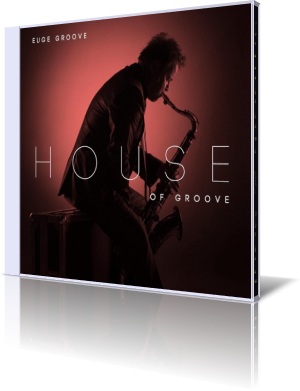 Saxophone star Euge Groove presents with House Of Groove his eighth album overall and his third album for Shanachie Entertainment. Behind these bare facts stands a long distance with hard training, diverse exposure but also ample reward through recognition of his audience.
After his engagement with Tower of Power over a period of four years he worked for the stars like Joe Cocker, Eurythmics, the Gap Band, Huey Lewis & the News, Elton John, Bonnie Raitt, Aaron Neville, Eros Ramazotti, and Richard Marx.
On his new album Euge is accompanied by pianist and keyboardist Tracy Carter, bassist Cornelius Mims, guitarists Paul Brown and John "Jubu" Smith, drummers Trevor Lawrence and Dan Needham, percussionist Lenny Castro and trumpeter Lee Thornberg.
With Knock Knock! Who's There? Euge strides on tiptoe into the album. He masters the soprano with great feeling and shows a good balance between virtuosity and gentleness.
On House Of Groove Euge supplies of course a block buster in the usual quality to put forward at the same time with Fellowship Hall a song with a high romantic potential. He employs well-known melody episodes, which have been already proven in such songs. Tracy Carter's piano complement is of superb ease.
The Gospel piece God Bless You shines with sober intensity. Euge catches the lead on tenor sax and then gives the favor to Kate Miner Moebel, who enchanted us with her sensual voice. On Lampin' It Groove takes a popular melody phrase of Marvin Gaye's What's Goin On? and build a saxual healing song on it.
Old. Edu (Old School) means Euge borrows some melody structures from old Motown hits to accelerate the attraction of the tune. Listeners with a good sound memory will be pleased by the musical cites.
An Indian Summer is a heat wave that occurs in the autumn. The time when the leaves turn gold and we must prepare for cold days. Let's leave it at this definition because Groove wonderfully captures the mood of the late autumn with his soprano sax. Never Met A Woman (Like You) features well-known singer Jeffrey Osborne in a soulful ballad.
Euge can interact with Kenny G in competition when it comes to the best combination of sweetness and enchanting melody like on Faithful Central. On the final It's Only Rain he picks singer Chioma into the boat and creates something very special in neo soul.
On House Of Groove are many rooms to explore. A dream castle for all smooth jazz fans.




Biography

Website


Buy the album in all stores

Album Information

Title: House Of Groove
Artist: Euge Groove
Year: 2012
Length: 0:58:59
Genre: General Jazz
Label: Shanachie Entertainment

Tracks:

01 Knock Knock! Who's There? [5:55]
02 House Of Groove [5:33]
03 Fellowship Hall [5:30]
04 God Bless You (Featuring Kate Miner Moebel) [6:15]
05 Lampin' It [5:12]
06 Old. Edu (Old School) [6:37]
07 Indian Summer [7:01]
08 Never Met A Woman (Like You) [4:59]
09 Faithful Central [5:40]
10 It's Only Rain (Featuring Chioma) [6:19]




Further Reviews: