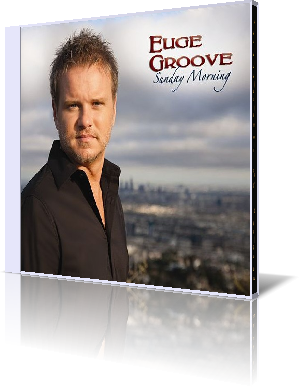 Steven Eugene Grove, better known as Euge Groove, had an exciting start during the glorious time of mp3.com in 1999. He had many downloads and soon he draw Warner Brother's attention. Paul Brown mixed his files and in 2000 he officially released his debut album entitled Euge Groove.
After the sophomore album Play Date (2002) he went to Narada Jazz and released Livin' Large (2004), Just Feels Right (2005) and Born2Groove (2007). Unfortunately Narada closed their jazz department like Warner did before. But Euge found a new home at Shanachie Entertainment, where he released his newest album Sunday Morning (2009).
Like on his previous albums Euge received great support by Paul Brown, who mixed and co-produced Sunday Morning and also performed on several tracks. Additional musicians are Phillipe Saisse, Oscar Seaton, Alex Al and many more.
The album starts with Get Ready in relaxed atmosphere. Stroll around your favorite locations, while listening to his song. On As You Like It Euge Groove flawlessly plays with alterations and repetitions of a theme, which resists the ageing process since the time of the Doobie Brothers.
Say My Name shows the familiar tenor sax in overdub mode, we also like to hear on albums of Richard Elliot, Boney James or Marion Meadows. With vocal songs one can always create islands of emotion. The Gospel ballade Yes featuring Dax Reynosa is that emotional point.
We all connect with the term Sunday Morning moments of peace and leisure. Euge Groove perfectly interprets this spiritual mood of happiness and contemplation. When you dig deeper into Euge's melody structure, you will certainly recognize on All For You his determination to describe his feelings in notes. Jubu Smith adds some mesmerizing guitar riffs as appetizer.
I admit, when it comes to Gospel music, Kirk Whalum is the first address. But Euge's The Gospel Truth is a respectable approach to this genre. I wouldn't say, that there exists a competition with other smooth jazz saxophonists for the smoothest sax. With Tenderly Euge would certainly have the first rank.
Sweetness is also the motto of On Your Knees. Babylon closes the album with a superb arrangement played by prolific musicians. Sax in the chorus, sax in the lead.
Sunday Morning is Euge Groove's attempt to deliver the perfect music for his smooth jazz fans. With the support of Paul Brown he has without any doubt reached this goal. Nevertheless Euge should strive on his next album for more diversification.





Buy the album in all stores

Album Information



Title: Sunday Morning
Artist: Euge Groove
Year: 2009
Length: 0:49:53
Genre: General Jazz
Label: Shanachie Entertainment


Tracks:

01 Get Ready [4:30]
02 As You Like It [4:49]
03 Say My Name [5:00]
04 Yes [5:01]
05 Sunday Morning [4:45]
06 All For You [4:21]
07 The Gospel Truth [6:45]
08 Tenderly [4:27]
09 On Your Knees [4:53]
10 Babylon [5:23]