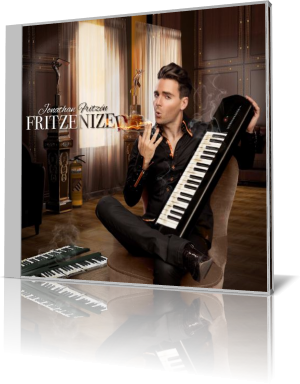 The level of awareness of pianist and keyboard player Jonathan Fritzén has increased rapidly in recent years. This is not only caused by his numerous spectacular performances but also by his albums Love Birds (2008), VIP (2009), Diamonds (2010) and Magical (2012).

With his new album Fritzenized (2015) Jonathan continues to his earlier successes. In addition to guest stars like Gerald Albright and Paul Taylor (sax), Nils Landgren (trombone) and singer Laila Adele, international top musicians participate in the recording such as Alex Al and Mel Brown (bass), Randy Jacobs (guitar), and others.
On the trace after the popular song Jonathan can cook it with Fingers on Fire. When the song picks up speed, he falls into staccato. It gets interesting. Euphoria is an excited state of joy, a good feeling, a state of intense happiness. The aptly title for this joyful melody featuring Paul Taylor on sax.
When one wants to create a funky tune, Randy Jacobs on guitar is first choice. A Funky Night thrives on the robust sound of this musician. Swedish singer Laila Adčle contributes with her energetic voice much personality. Enchantment has some of the magic of a wonderful island.
Jonathan met Gerald Albright on the Smooth Jazz Festival in Augsburg (2011). The impression of his stage presence led to the desire to have this artist on his next album. Celebration is Gerald's piece. On the smooth Sailing Away Jonathan gives his voice expression for the interpretation. A gentle beginning.
Inspired by his trip to Nicaragua, where he came in contact with the reggaeton beat, he creates the spicy Guacamole featuring Swedish trombone player Nils Landgren. On The Jungle Jonathan unfolds his skills on piano to a superb level, which is explained in cooperation with his excellent Swedish fellow musicians.
With Kiss Goodbye he is perfect in musically implementing the pain of parting. New Beginning is the final completion of the album, which gives a fresh impulse to some activity again. Don't forget, spring is coming!
Jonathan Fritzen's Fritzenized offers a full range of lush arrangements with a maximum of flavor.



Biography

Album Information

Title: Fritzenized
Artist: Jonathan Fritzén
Year: 2015
Length: 0:46:39
Genre: General Jazz
Label: Nordic Night Records


Tracks:
01 Fingers on Fire [4:11]
02 Euphoria (Featuring Paul Taylor) [4:29]
03 A Funky Night (Featuring Laila Adčle) [4:10]
04 Enchantment [4:28]
05 Celebration (Featuring Gerald Albright) [4:34]
06 Sailing Away [4:24]
07 Guacamole (Featuring Nils Landgren) [4:44]
08 The Jungle [4:33]
09 Kiss Goodbye [5:24]
10 A New Beginning [5:43]



Further reviews:



VIP