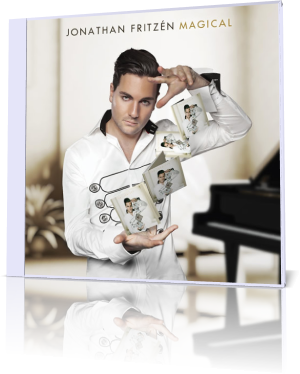 Jonathan Fritzén is Sweden's premium export in Smooth Jazz. He is known by his albums Love Birds (2008), VIP (2009) and Diamonds (2010). He supported the release of his albums with numerous live performances in USA.
His newest project is entitled Magical and already in the top ten of the Billboard charts. As on his previous albums Fritzén is supported by famous artists like Boney James, Paul Brown, Jackiem Joyner, Darren Rahn, Malene Mortensen and Vincent Ingala.
The first track is the title song and also the first single frequently played on the remaining smooth jazz radio stations. It is debatable whether the composition talent or musical virtuosity of this artist is greater. Magical meets all the requirements of a capturing song and with Boney James on sax he has a suitable figurehead.
Love Will Overcome features the upcoming smooth jazz star Jackiem Joyner. Fritzén builds the song skillfully with a dynamic arrangement. Sweet Spot is tailored perfectly to the musical personality of the guitarist Paul Brown. His relaxed style of play exudes great confidence.
The cheerful Electric lifts your spirits. Sophisticated way of playing and perfect timing reveal the participation of experienced musicians like Randy Jacobs (guitar) and Eric Valentine (drums). Fritzén puts his musical talent a targeted way, to achieve emotional effects as he showcases on Nostalgia.
Easy-going, laid-back To The Top, a really catchy tune. Vincent Ingala adds some groovy sax tones to Fritzén's keyboard line. Can't Get You Out Of My Mind presents the lovely Malene Mortensen, an extremely beautiful Danish jazz and pop singer. A warm-hearted love song with great emotions.
Fritzén doesn't neglect his roots in the pop music as he shows up with Turn Back Time. Similarities with oldies are more desirable than unintentionally. When a beautiful melody appeals to a breaking point, than we are spell bounded by the attraction of Nordic Night.
With Lullaby Fritzén holds his standard of unforgettable melodies. Final song is Angels, Fritzén's presentation without pathos is accompanied by Erik Avender and friends on strings and gives the whole song an orchestral character.
Magical is undoubtedly Fritzén's most mature project. With such a compositional talent all doors are open for him.




Biography

Website


Buy the album in all stores

Album Information

Title: Magical
Artist: Jonathan Fritzén
Year: 2012
Length: 0:52:27
Genre: Smooth Jazz
Label: Nordic Night Records

Tracks:

01 Magical (Featuring Boney James) [4:17]
02 Love Will Overcome (Featuring Jackiem Joyner) [4:02]
03 Sweet Spot (Featuring Paul Brown) [4:55]
04 Electric [4:22]
05 Nostalgia [4:57]
06 To The Top (Featuring Vincent Ingala) [4:53]
07 Can't Get You Out Of My Mind (Featuring Malene Mortensen) [5:12]
08 Turn Back Time [4:23]
09 Nordic Night [5:45]
10 Lullaby (Featuring Darren Rahn) [5:03]
11 Angels [4:38]




Further Reviews: