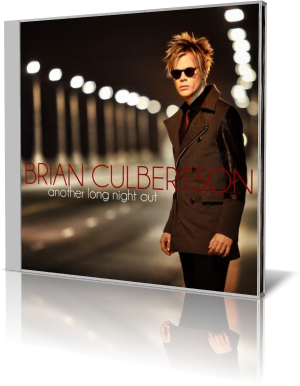 Brian Culbertson follows the spirit of the first time with Another Long Night Out (2014). While other musicians fear the repetition like the plague, provides us Culbertson a decoration of his first work.
He has spared no expense or effort to invite the crème de la crème of the music business for recording. Lee Ritenour, Steve Lukather, Eric Marienthal, Candy Dulfer, Chuck Loeb or Russ Freeman are just some of the many legends.
While Brian loves every song of his debut album, he regrets the technical constraints under which his album has been created. So the desire drove him around to make it better until he made ​​himself the gift of a new recording.
City Lights starts with Alex Al's pithy bass that accompanies Brian's airy piano playing. Whether you prefer Grand Piano or Roland D70 comparing both versions, can be undecided. The captivating melody is crucial.
When you mix potions of Fourplay and the Rippingtons, you get Fullerton Ave. Piano playing of supreme elegance supported by an exquisite horn section, what more could you want. Beyond the Frontier lives of David Benoit arranged strong string accompaniment supporting Brian's dreamy piano performance.
For listeners with an affinity for percussion, Heroes of the Dawn is recommended. I am fascinated by the interplay of Will Kennedy on drums and percussionist Lenny Castro. The ingenious however is, they follow Culbertson's rhythm arrangement. An epic painting designs Culbertson with Beautiful Liar. The soft orchestral strings he opposes Steve Lukather's rocking guitar.
Based on a driving beat Double Exposure offers a melody far as the prairie. Each listener can develop his own imagination and fantasy here. What I loved about Bruce Hornsby's music, I find in the Twilight again. On Horizon is certainly Michael "Patches" Stewart on muted trumpet the star, but Brian knows how to assert himself.
Alone With You is a declaration of love to the female gender of divine quality. Just listen and enjoy. Then it continues full steam ahead on Long Night Out. With Eric Marienthal, Candy Dulfer and Michael "Patches" Stewart as brass trio Brian has a top class cast. The final Changing Tides features a piano masterwork accompanied by the atmospheric humming of Jonathan Butler. Pure Mood.
Brian Culbertson's retrospective insight in his debut album Another Long Night Out gives his fans comforting reminder showers.




Biography

Website


Buy the album in all stores

Album Information

Title: Another Long Night Out
Artist: Brian Culbertson
Year: 2014
Length: 0:55:31
Genre: General Jazz
Label: BCM Entertainment, Inc.

Tracks:

01 City Lights / Brian Culbertson Feat. Lee Ritenour [5:57]
02 Fullerton Ave. / Brian Culbertson Feat. Chuck Loeb [5:59]
03 Beyond the Frontier [4:39]
04 Heroes of the Dawn / Brian Culbertson Feat. Eric Marienthal & Rick Braun [5:32]
05 Beautiful Liar / Brian Culbertson Feat. Steve Lukather [4:20]
06 Double Exposure / Brian Culbertson Feat. Russ Freeman [4:46]
07 Twilight / Brian Culbertson Feat. Eric Marienthal [4:08]
08 Horizon / Brian Culbertson Feat. "Patches" Stewart [4:29]
09 Alone With You [6:36]
10 Long Night out / Brian Culbertson Feat. Candy Dulfer [4:57]
11 Changing Tides / Brian Culbertson Feat. Jonathan Butler [4:09]






Further reviews: