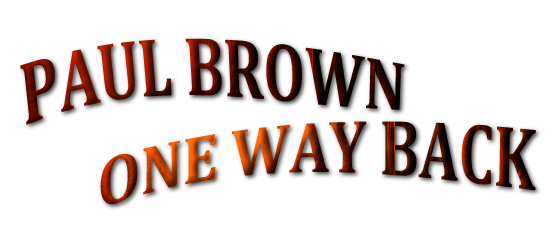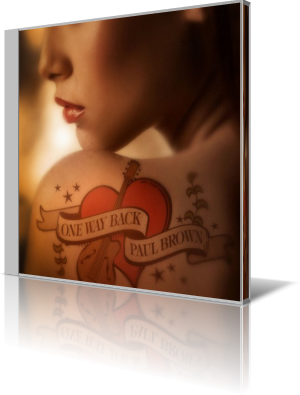 A smart buddy, a gifted musician, a radiant producer. Guitarist Paul Brown is, in the true sense of the word, an outstanding personality. Anyone who knows him personally will appreciate his deadpan sense of humor.
His newest project, One Way Back (2016), is staffed by a star-studded group of musicians. Peter White, Marc Antoine, Chris Standring, Chuck Loeb, Darren Rahn, Roberto Vally, Greg Vail and many more high-caliber artists are on the guest list.
Put It Where You Want It ensures a great party mood. The electrifying energy is especially fired up by famous organist Brother Paul Brown and trumpeter Lee Thornberg. On Sexy Thang Paul works together with Lew Laing, who is deeply involved in the independent music scene. The tune features Darren Rahn on sax and flute with resonate tones.
Paul Brown loves the groove and on Hush the groove is celebrated with unbridled enthusiasm. Lee Thornberg's horn arrangement is profoundly influenced by funky elements of AWB and James Brown. On Piccadilly Circus Paul Brown meets Chris Standring, who shows his musical skills as multi-instrumentalist on guitar, bass, drums, percussion and keys. This is the jazzy Standring swing with his typical danciness.
On River Walk Paul is on the way to perfect harmony with fellow guitarist Marc Antoine conjuring emotions and touching hearts. In the focus of Well Alright is singer Don Bryant, who is best known as writer of the song I Can't Stand the Rain. Paul produced his gospel album It's All In The Word in 2000. The fire is still there.
Paul Brown and Peter White often performed together, for example on Paul's album Love You Found Me and Paul produced many of Peters' albums. Take Flight is so a natural process of an emotional intertwining of two great guitarists. Without a doubt is the title song highly accessible with a touching hook predestined to climb the charts. Keyboardist Jeff Carruthers belongs to the inner circle of fine musicians and he did a fantastic job on this song.
On the bluesy Rear View Mirror Paul invites Jazz guitarist Chuck Loeb for an intoxicating duet of sonic perfection. The final Heaven sounds like a tribute to Bob Dylan, who just has received the Literature Nobel Prize.
Paul Brown serves the audience anew a virtually flawless album with his pristine guitar in the center of musical activity. One Way Back is especially for friends of smooth jazz guitar music a welcome addition to their collection.




Buy the album in all stores

Album Information

Title: One Way Back
Artist: Paul Brown
Year: 2016
Length: 0:39:49
Genre: General Jazz
Label: Woodward Avenue Records


Tracks:
01 Put It Where You Want It [3:44]
02 Sexy Thang [4:01]
03 Hush [3:52]
04 Piccadilly Circus [3:49]
05 River Walk [3:52]
06 Well Alright [4:09]
07 Take Flight [4:30]
08 One Way Back [3:24]
09 Rear View Mirror [3:49]
10 Heaven [4:39]








Further reviews

:

Love You Found Me

The Funky Joint

ForeignXchange