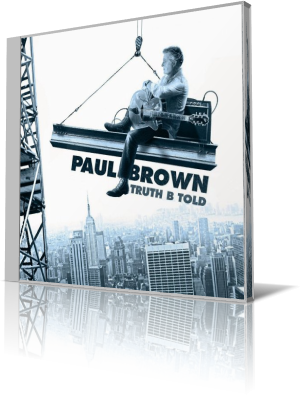 As a producer Paul Brown worked for artists like Peter White, Rick Elliot, Boney James, Jessy J, Najee, Darren Rahn, Dave Koz, Euge Groove and many more.
Equally successful is his solo career as a guitarist. with albums such as Up Front (2004), The City (2005), White Sand (2007), Love You Found Me (2009), and The Funky Joint (2012). Also to mention is a remarkable collaboration with Marc Antoine on the album ForeignXchange (2009).
His album Truth B Told (2014) is his second CD for Woodward Avenue Records. Brown is also connected with the label as A&R consultant. The list of musicians on this CD is enormous. Greg Adams, Greg Vail, Dave Koz, Najee, Darren Rahn, Euge Groove, Richard Elliot, Bob Baldwin, Larry Carlton, Ricky Lawson, and many more are participating.
With nonchalant finger technique introduces Paul Brown on Sunrise On Sunset into his wonder world of smooth jazz. Perfection in arrangement and performance support the appeal of this piece. Tower of Power legend Greg Adams is the master of horn arrangement.
This unpretentious casualness continues in the relaxed bluesy Truth B Told. Brown's guitar play is perfectly accompanied by the horn elite. The more up-tempo Take It From Me is a collaboration with Carl Burnett, who performs keys, bass, drums, rhythm guitar and created the track arrangement.
Love N Trust offers some nice Motown meets Country feeling featuring Wendy Moten and Paul Brown in an awesome vocal duet. The city of Casablanca in Morocco is well-known since the same named film with Humphrey Bogart. Flutist Najee and guitarist Brown pair in a melodic accordance and airy texture.
Richard Elliot, who recently collaborated with Brown on the album Lip Service, returns the favor on Home Sweet Home. With Benson-like chords Brown meets Richard's mellow sax blow. Brown brings with Benson like guitar chords Stay Sly in swaying vibration. Euge Groove plays the sax role in usual excellence.
On Till the Mornin' Comes Brown trust in Swiss-born keyboardist Marco Basci, with whom he often tours. Keys and guitar form a harmonious unit on this piece. Unsurpassed in the sweetness of the saxophone however is Dave Koz on Avalon Nights. Each note screams radio-like, when Brown plucks the acoustic guitar.
With Purple Shoes he creates the necessary counterweight and returns to objectivity. He shares the performance with guitar heavyweight Larry Carlton, who has since his time as a member of the group Fourplay a special affinity for smooth guitar swings.
Truth B Told says the real certainty about Paul Brown. He remains a reliable factor in the smooth jazz genre.




Buy the album in all stores

Album Information

Title: Truth B Told
Artist: Paul Brown
Year: 2014
Length: 0:45:20
Genre: General Jazz
Label: Woodward Avenue Records


Tracks:

01 Sunrise On Sunset [4:21]
02 Truth B Told [4:40]
03 Take It From Me [4:07]
04 Love N Trust [4:05]
05 Casablanca [4:19]
06 Home Sweet Home [4:45]
07 Stay Sly [4:47]
08 Till the Mornin' Comes [3:38]
09 Avalon Nights [4:24]
10 Purple Shoes [6:14]







Further reviews

: