Dominic Amato - Fresh From The Groove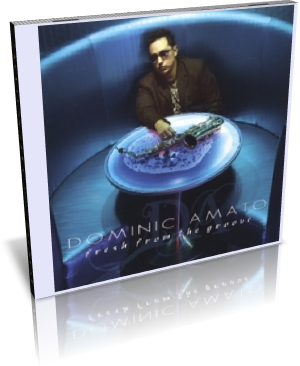 Dominc Amato was infected by the saxophone virus listening to his father sax play. His mother and brother are musicians too, so it's no wonder that he began experimenting musical instruments in early years. Turning Point is an instrumental jazz group based in Phoenix Arizona and founded by the guitar and bass duo of Thano and Demitri Sahnas. In 2004 Dominic joined this group and together they recorded the album Matador in 2005.
Dominic still performs with Turning Point and also the group Sacred Soul, furthermore with talented vocalists as Khani Cole. Dominic's debut album is entitled Fresh From The Groove (2009) and released by nuGroove Records.
Keyboardist/producer Michael Broening, who recently produced Marion Meadow's album Secrets (2009), is also producer, programmer and keyboardist on Dominic's album. Further musicians joining this project are Mel Brown (bass), Freddie Fox, Paul David, Thano Sahnas (guitars), John Herrera (percussion) and some more.
The connection between Marion Meadows, Michael Broening and Dominic Amato produce Exciting Times. All three musicians know the groove and how to realize this magnetic swing. Elegant, smooth and professional. Nico's Smile is a relaxed tune with rhythmical emphasis.

In 2008 Dominic was often touring with Eric Marienthal and Fresh From The Groove was always on the playlist. The energetic way of performance and the passion for music are to find in both musicians. Perhaps Dominic feels this way because his instructor was none other than the world renowned saxophonist and educator Eric Marienthal.

The funky attitude is very popular under smooth jazz musicians. So Dominic delivers Greezy for funky audience's delight. Firmly influenced by the likes of Maceo Parker and George Clinton Dominic shines on the talk box EWI. Funk on!
On Jamaica you certainly await some reggae, but this tune is absolutely Hip-Hop influenced. Thano Sahnas and Dominic perform a convincing and captivating tune. My first choice.
Sweetness and romance combines the slow ballade Still Here With You. Mario Mendevil, who performed with Nelson Rangell and Jay Soto, composed this song together with Dominic and accompanies with great layers on piano and B3.
The easy going Jazzy's Flow reveals a splendid performance of Dominic and Michael on an attractive shuffle beat. Out the Gate is a good opportunity for Dominic to play soprano, alto and tenor sax in an overdub procedure.
Letsjuschill is the right stuff for chilling out at your desired place. Final tune of this album is My Luvsounds Juslikethis featuring anew Dominic Amato on talk box EWI. This is an EWI with a talk box attached, which digitizes the voice while one sings into the instrument. A fascinating technique which I recently heard on Mike Phillips' album.
Dominic Amato's debut Fresh From The Groove keeps the smooth jazz genre going. Only mesmerizing melodies can spellbound the saturated audience.



Title: Fresh From the Groove
Artist: Dominic Amato
Year: 2009
Length: 0:50:17
Genre: Smooth Jazz
Label: NuGroove Music LLC


Tracks:

01 Exciting Times [4:22]
02 Nico's Smile [4:32]
03 Fresh from the Groove [4:49]
04 Greezy [6:16]
05 Jamaica [5:12]
06 Still Here With You [5:27]
07 Jazzy's Flow [4:17]
08 Out the Gate [5:27]
09 Letsjuschill [5:03]
10 My Luvsounds Juslikethis (For Wifey) [4:52]