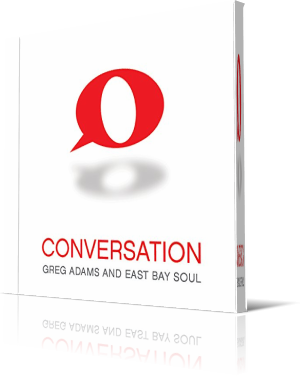 Trumpet legend Greg Adams was the bedrock of the formation Tower of Powers. As a founding member of the group he has recorded fourteen albums and composed many of their hits. Nowadays his focus is on the band East Bay Soul.
The band currently consists of Greg Adams (trumpet, flugelhorn, and background vocals), Darryl Walker (lead vocals, tenor sax), Lee Thornburg (trumpet, fugelhorn, and background vocals), Johnnie Bamont (alto, tenor and baritone saxes, flute, and background vocals), Greg Vail (alto, tenor sax, flute and background vocals), Nick Milo (keys and background vocals), Kay-Ta Matsuno (guitar), Dwayne "Smitty" Smith (bass), Herman Matthews (drums, and background vocals), and Johnny Sandoval (Latin percussion and background vocals).
The formation started in 2009 with the same named debut album. Soon followed East Bay Soul 2.0 (2012), That's Life (2015) and this year Conversation. The album takes an overwhelming start with Look Book. The track shines with a sophisticated horn arrangement where the listener can discover many details. Dwayne's bass plays a dominant role however.
The title song builds on the swinging period of great big bands with an elegant nostalgic style of play. Darryl Walker shows his vocal qualities on the romantic Quiet Scream. The orchestral horn arrangement rounds up the song perfectly. Tiger Beat would aptly fits to a crime movie, full of darkness and secrets.
The Rock band Little Feat created Spanish Moon with a mighty horn set, releasing the song on the album Feat Don't Fail Me Now (1974), on the Live album Waiting For Columbus (1978), and on the album Join The Band (2008). Interesting enough for East Bay Soul to expand on their own interpretation.
The soulful ballad Our Love Divine was written by Rocky Maffit, who also wrote the lyrics for the song Where Do We Go from Here, both featuring Darryl Walker as lead singer. He is accompanied on the two songs by a wonderfully arranged string set of the ROQ Goddess Strings giving the songs a cinematic character.
Possibilities leans on a funky Shuffle beat with pro-active trumpet horns in the style of Herb Alpert. Send is my last chance to honorably mention that Greg Adams has composed most of the tunes in parts together with keyboardist Nick Milo. The final song Try a Little Tenderness was made popular by Otis Redding and received a fantastic rebirth by East Bay Soul with Darryl Walker in the lead.
Are you preparing for a hot summer? Then don't forget to take Conversation with you on your favorite trips.




Biography

Website


Buy the album in all stores

Album Information

Title: Conversation
Artist: Greg Adams and East Bay Soul
Year: 2018
Genre: Smooth Jazz
Label: Ripa Records


Tracks:

1 Look Book 4:00
2 Conversation 4:21
3 Quiet Scream 4:33
4 Tiger Beat 4:46
5 Spanish Moon 5:16
6 Our Love Divine 3:42
7 Possibilities 4:47
8 Send 4:44
9 Where Do We Go from Here 3:40
10 Try a Little Tenderness 5:19




Further reviews:

East Bay Soul

East Bay Soul 2.0

That's Life