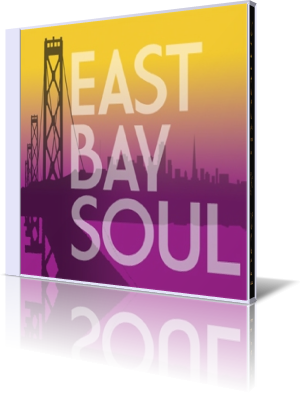 Former Tower of Power mastermind Greg Adams has created a new project called East Bay Soul. Members of the band are Greg Adams (trumpet), Brian Allen (bass), Johnnie Bamont (sax and flute), Michael Paulo (sax), Joey Navarro (keyboards), Johnny Sandoval (percussion), Evan Stone (drums), Lee Thomburg (trumpet, flugelhorn, trombone) and James Wirrick (guitar). But don't await an instrumental-only band. On the new album East Bay Soul are also a lot of vocals.
Nevertheless the band stands in the tradition of Tower of Power with a strong emphasis on the horns. East Bay Soul is entitled after the San Francisco East Bay Area. The group presents contemporary jazz with a big dose of R&B, just the right mixture to let you dance and groove.
The album starts with Survival Of The Hippest, a horn driven tune featuring Greg Adams on solo trumpet. Tom Bowes adds a short rap sequence which doesn't change the brass laden character of the song.
Bop Drop is more or less a jazz interlude, a symbolic fig leaf for the jazz purists. Reading Lips features Tom Bowes, former lead singer of Tower of Power and today's a member of the group Funk Filharmonik. He puts his heart blood into melody and emotion.
Jump, Shout & Holler presents a further singer, Sean Holt. He recently appeared on Richard Smith's L.A. Chillharmonic. His singing is very trenchant and unique. The cool is back on the mid-tempo What's It Gonna Be?, Greg Adams and his muted trumpet.
With Always Take Two Greg Adams and Carmen Grillo create a timeless beautiful piece of music. The uplifting tune is simply hooking from the first note. Splendid arrangement and superior performance of all band members let the melody shine. Listen to the tune and you feel good.
iHope is an appeal to everyone to choose the higher road, solve the problems of the world and stay positive looking into future. The song features singer Darryl Walker, who currently tours with his Darryl Walker Project. Awaken is a trumpet-driven tune presenting Greg Adams and Lee Thornburg. Herb Alpert's classical work has some influence on this tune.
If you like the old rock songs of Chicago, there is no way to pass Stop. Carmen Grillo's solo on guitar delivers a strong rock element like Lee Thornburg's raw vocals do. Five To Eleven shows more the cool contemporary jazz side of the group. The mood of a night walk through the bars of the city. Final tune is the ballade Someone New, a song of a lonely man who cannot forget his precious relationship. Embodied by vocalist Tom Bowes and supported by a great horn set this piece grows in you with dramatic.
Greg Adams fulfills a long carried dream with East Bay Soul. Excellent horn arrangements combined with great vocals are the musical transmitter of sizzling melodies. Although standing in the tradition of Tower of Power Greg's new album offers much more, a multi-colored world of sound..





graphy

Greg Adams - Website

Buy the album in all stores

Album Information

Title: East Bay Soul
Artist: Greg Adams
Year: 2009
Length: 0:40:42
Genre: General R&B
Label: Ripa Records

Tracks:

01 Survival Of The Hippest [4:20]
02 Bop Drop [0:44]
03 Reading Lips [3:54]
04 Jump, Shout & Holler [3:45]
05 What's It Gonna Be? [4:18]
06 Always Take Two [3:48]
07 iHope [4:11]
08 Awaken [3:42]
09 Stop [3:49]
10 Five To Eleven [3:48]
11 Someone New [4:24]


Further Review and Interview: