The L.A. Chillharmonic - L.A. Chillharmonic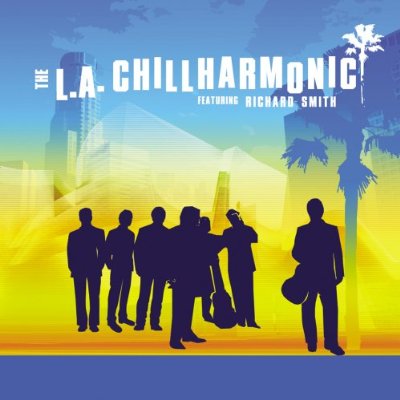 Education plays a central role in the busy life of Professor Richard Smith. Settled in the L.A. jazz scene Richard played with Dan Siegel, Kenny G, Richard Elliot, Rick Braun and many more. His first album Inglewood was followed by nine further solo albums.
His newest project is called L.A. Chillharmonic assembling the contemporary jazz star alliance of Brian Bromberg (bass), Vinnie Colaiuta (drums), Alex Acuņa (percussion), Jeff Lorber (keyboards), Patrice Rushen and Greg Karukas (pianos), Greg Adams (trumpet), Gary Meek, Michael Paulo, and Eric Marienthal (sax).
"It's something that represents the best and brightest in my geographic area," says Richard Smith. "Most major cities have a philharmonic orchestra in the classical idiom, and some cities have municipal jazz bands, but no city has something that represents a major musical genre like instrumental jazz/funk/pop/R&B. And with this project I just wanted to represent and celebrate the unique musical signature as Los Angeles players, writers and arrangers."

The first album of this all-star group was released on Aug 26, 2008 and as Richard confirmed it will not be the last one. The album starts with L.A. Chillharmonic, the new anthem of the west coast. While Richard Smith's guitar is the melody leader his fellow-musicians deliver brilliant contributions on their instruments.
Checkin' You Out was composed by young guitarist Travis Vega, who is a rising star in the guitar scene (Just Let It Flow, Smooth Urban Night) and a really asked composer for such alike as Les Sabler, Andrew Neu and Richard Smith. A perfect groove for first-class guitarists like Richard.
Another song by Travis is Gift, a through ball for bassist Brian Bromberg, guitarist Richard Smith and singers Patricia Rushen and Toni Scruggs. Also remarkable the piano fills of Bromberg and Rushen. A brilliant flow. One of the best songs of 2008.
What makes Richard's songs like Ultimate X so appealing? As a Professor of the Studio/Jazz Guitar Department at the USC Thornton School of Music, one of the top music schools in the world he knows his guitar chops. But there is much more. The top-notch musicians, the perfect arrangements and the superior horn section initiated by Tower of Power legend Greg Adams.

The band delivers a delicious approach to Stevie Wonder's Boogie On Reggae Woman. Taken from Stevie's album Fulfillingness' First Finale (1974) Eric Marienthal and Michael Paulo spellbound with their magic sax blow.
The bluesy Back In The Day is the hot spot for a great jam. Excellent Brian Bromberg's bass injection and Greg Adams' horn background. Brian Mc Knight's elegant What We Do Here from his album Gemini (2004) finds a serious smooth jazz interpretation on Richard's glittering guitar.
The slow Being With You by Travis Vega gives the right sound for some relaxation. Richard lets his guitar speak. We hear you! Patrice Rushen performs an excellent piano solo. Magnificent!
Agrigento (Girgenti in Sicilian) is a city on the southern coast of Sicily, Italy with an extraordinarily rich archaeological legacy. Richard masterly captures the spirit of this mysterious city between history and modern age.
The final explosion of this great group is Alvinator by Dan Siegel. Richard joined Dan's band at age 19 and recorded three albums with this popular keyboardist. A piece on which all band members can shine in a big jam.
L.A. Chillharmonic. The concentrated musical energy of L.A.'s best contemporary jazz musicians has a new face. Richard, we wait for more!




Title: The L.A. Chillharmonic featuring Richard Smith
Artist: L.A. Chillharmonic
Year: 2008
Length: 0:44:22
Genre: General Jazz
Label: Artistry Music Group


Tracks:

01 L.A. Chillharmonic [5:09]
02 Checkin' You Out [3:52]
03 Gift [4:21]
04 Ultimate X [4:30]
05 Boogie On Reggae Woman [4:12]
06 Back In The Day [4:03]
07 What We Do Here [4:13]
08 Being With You [4:27]
09 Agrigento [4:33]
10 Alvinator [5:01]